Altex Regatta Gloss Enamel Snow White - 1L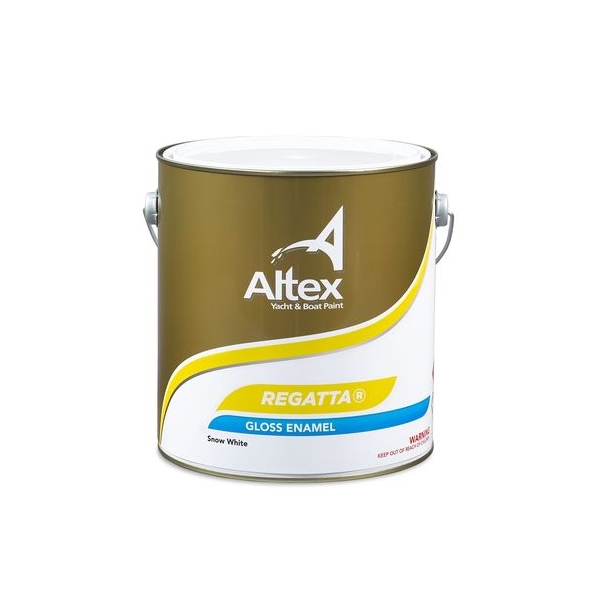 Regatta® Gloss Enamel is designed for use as the finish coating for the Single Component Marine topsides systems.
Regatta® Gloss Enamel can be used on :
Canoes
Tenders
Dinghies
Trailer yachts
Power boats
For signwriting
Boot stripes
For up-grading existing enamel systems, subject to correct preparation and undercoating and numerous other DIY projects requiring a high quality enamel finish coat.
Features:
High gloss enamel finish
Superior, "long oil" Marine quality
Good weathering properties
Excellent gloss retention
Good application characteristics
Compatible with Altex Flattening Paste to reduce the gloss for interior colours
May be modified with the addition of Regatta® 2K Additive to speed up cure and enhance overall performance. This effectively creates a "Two Pack" finish coat.
Specifications:
Colour: Refer Altex Yacht & Boat Colour Chart for standard colours. https://altexboatpaint.com/assets/pdf/Top%20Coats%20Colour%20Range.pdf. Also available as a custom tint (For more information please talk to one of our Smart Crew)
Gloss: High Gloss
Thinner: Brushing: Thinner #45. Spray: Thinner #53
Theoretical Coverage Rate: 10 sq metres per litre at 50 microns dry
Recommended Film Thickness Per Coat: 80-100 microns wet to obtain 40-50 microns dry
Application: Spray, brush or roller
Dry Times (50 µm DFT / 25°C / 50% RH):
Touch Dry : 1½ Hr
Hard Dry : Overnight
Recoat Time (50 µm DFT / 25°C / 50% RH):
Recommended : Overnight (max 5 days without sanding)

For more information, Product Data Sheets and MSDS. Please see https://altexboatpaint.com