Hella Endurant Boatmaster Marine Starter Battery- 1060Mca (930Cca)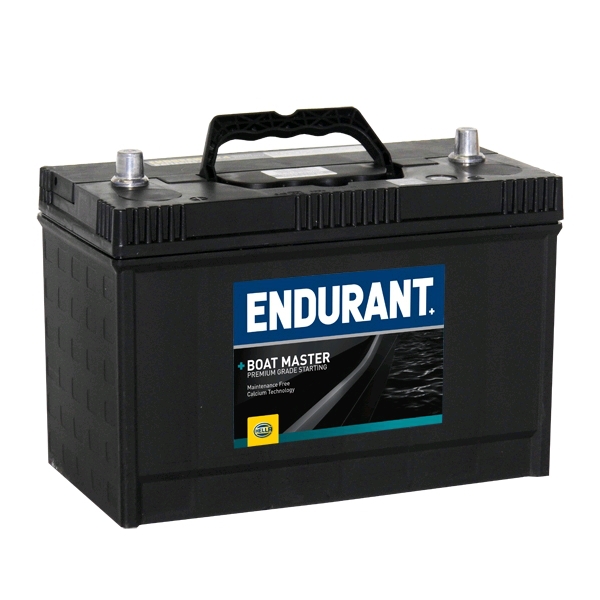 Maintainance free marine battery.
HELLA ENDURANT BOATMASTER is a marine grade engine battery.
Similar in construction to the loadmaster, this range has heavier positive plates than a car battery and includes vibration and cycling resistive separators. The maintenance free construction reduces gas emitted from the battery resulting in elimination of corrosion around the terminals and lowers the ventilation requirements.
Backed by a 2 year warranty this high performance product has a proven record in NZ.
• Marine Maintenance Free - never needs water
• Anti-Vibration design - prevents damage caused by shock and vibration
• High Performance Engine Starting
• Calcium / Calcium latest technology
• Low self discharge - longer lasting while not being used
• Magic eye - can easily check state of charge (most types)
• Dual Terminal quick installation and for adding accessories (most types)
• Convenient carry handle for easy transportation and installation
• Low profile flush lid - easy to keep clean
SPECIFICATIONS:
Part Code MMF31/930
Height 238 mm
Length 330 mm
Width 173 mm
Voltage 12v
A/Hrs 100
Reserve Capacity 200
Terminal STD
Assembly C
CCA 930
MCA 1060
KEY:
CCA = Cold Cranking Amps. The international recognised battery performance test. The discharge load in amperes which a fully charged battery at -18 degrees C (0 degrees F) can deliver for 30 seconds and maintain a voltage of 7.2 volts.
MCA = Marine Cranking Amps. Same as above, tested at 0 degrees C (32 degrees F).
Res Cap = Reserve Capacity. The time in minutes that a new fully charged battery will supply a constant load of 25amps at 25 degrees C without the voltage falling below 10.5 volts for a 12 volt battery.
Amp/hrs = Ampere Hours. A unit of capacity that is calculated by multiplying the current in amps that the battery can deliver for 20hrs to 10.5 volts for a 12 volt battery.
CLICK HERE FOR THE OUTBOARD MOTOR/BATTERY SIZE GUIDE
BATTERY CARE AND MAINTENANCE:
1. Always select a battery that has enough cranking power or capacity to get the job done.
2. Periodically ensure your battery is fully recharged. Without use some batteries discharge up to 10% of their capacity each month. (flooded type).
3. Failure to charge a battery will cause sulphation leading to poor life and performance.
4. Check battery levels monthly. Ensure they are at the upper level indicator. Top up using distilled water. If topping up is required more than 3 times a year contact the Smart Crew!
5. Ensure battery terminals are clean. If corrosion occurs, pour boiling water over terminals and cover with either vaseline or a grease based applicant.
6. Keep battery top clean and acid free, ensure battery is held down securely for extended life.
7. Only use a battery for its designed purpose. i.e. Marine Engine Start, Deep Cycle etc.