Altex No.5 Ablative Antifouling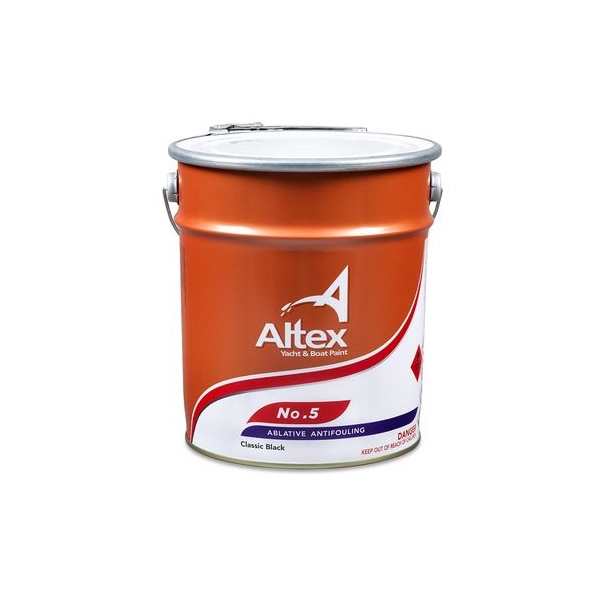 Copper Based Ablative Anti-Fouling for boats.

**SHIPPING PRICE IS FOR NORTH ISLAND SHIPPING ONLY, INCLUDING AUCKLAND** Auckland we recommend collection if possible.
SOUTH ISLAND SHIPPING: Please contact the Smart Crew for a shipping quote to your address.
SORRY, THIS ITEM CANNOT BE ORDERED ONLINE TO THE SOUTH ISLAND. The shipping price is for North Island delivery only.
Features:
No.5 Copper Based Ablative Antifouling is recommended:
Where multi-season effective fouling protection is needed.
Where regulations ban or restrict the use of organotin compounds.
On yachts, tenders, dinghies, trailer yachts and power boats.
No.5 Antifouling is:
Compatible over other copper based anti-foulings, where recommended preparation is achieved
Not suitable for use on aluminium craft, outboard motors, sail drives or stern legs
Suitable and recommended for use on primed GRP, steel, timber and ferro-cement craft
Advantages:
Contains No Organotin Compounds
Contains high levels of cuprous oxide
Self polishing/ablative mechanism inhibits the attachment of fouling organisms
Available in four clean colours
Organo-tin free
Suitable for high speed craft - however, ablation rate will increase when subjected to sustained high speed
Excellent static performance
Excellent long term performance
Limitations of Use:
Some colour variation between batches may occur, also colours may change during storage. If material from different batches is used, carry out thorough "boxing" to ensure a consistent colour is achieved. Full colour is developed over the first weeks of immersion.
DO NOT APPLY TO ALUMINIUM / ALLOY SURFACE.
Thinner: Do Not Thin Clean up with E10 Thinner
Storage: 12 months when stored under cool, dry conditions
Theoretical Coverage Rate: 6.7 sq metres per litre at 75 microns dry
Recommended Film Thickness Per Coat: 150 microns wet to obtain 75 microns dry, Two coats recommended
Application: Spray, brush or roller
Dry Times (75 µm DFT / 25oC / 50% RH):
To Recoat - Minimum 4 hours - Maximum Not critical
To Launch - Minimum 8 hours - Maximum Not critical
**Dangerous goods shipping applies, see the Smart Crew for a quote**

For more information, Product Data Sheets and MSDS. Please see https://altexboatpaint.com