Performix Liquid Tape Clear Electrical Insulation Brush On- 118Ml/Black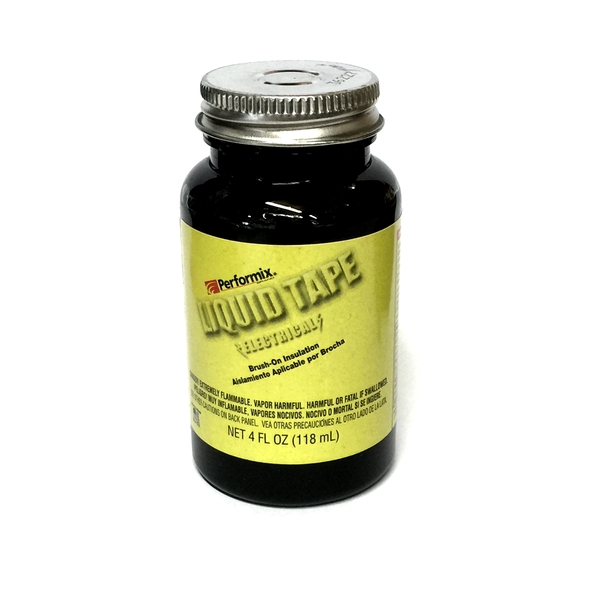 Brush on Insulation.
Performix Liquid Tape Insulation Coating is being used on electrical connections everywhere. From speaker cables to circuit boards; automotive projects to toggle switches; extension cords to underground wiring; terminal blocks to underwater aquarium pumps. Liquid Tape is a rubber insulation coating that exhibits excellent acid, alkaline, abrasion protection and seals out moisture and salt permanently.
Liquid Tape has the strongest dielectric protection on the market; 1,200 v/mil, 5-7 mils per coat. Liquid Tape will not harden, unravel or become brittle in extreme weather conditions.
* Trouble Free - won't unravel like tape.
* Seals out moisture, salt permanently.
* Easy to apply - brush on
* Flexible Rubber Formula - won't crack, peel or harden.
* Has been tested to 1000 volts!
*Dangerous goods shipping applies
**SHIPPING PRICE ON THIS ITEM IS FOR NORTH ISLAND SHIPPING ONLY, INCLUDING AUCKLAND** Auckland we recommend collection if possible.
SOUTH ISLAND SHIPPING: Please contact the Smart Crew for a shipping quote to your address.
SORRY, THIS ITEM CANNOT BE ORDERED ONLINE TO THE SOUTH ISLAND, IT IS BULKY/HEAVY/DANGEROUS GOODS. The shipping price is for North Island delivery only.