Isotemp 15Ltr Stainless Steel Slim Water Heater 750W - 230V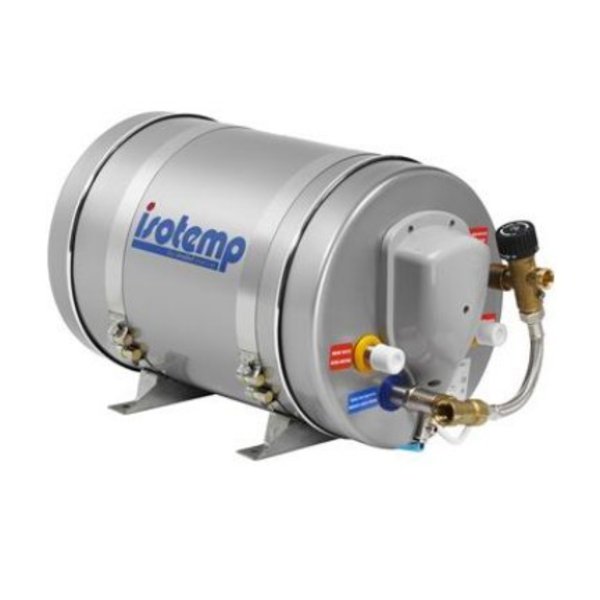 Stainless steel for motorhomes and marine.
Isotemp Slim models with heat exchanger and electrical immersion heater elements.
Isotemp Slim has an exlusive look and design, with brushed stainless steel cover. The highest capacity is achieved by the engine water heat exchanger, as well as by the immersion heater mounting. They are positioned as low as possible inside the tank to heat the water where it is coldest.
Can be mounted in a horizontal or vertical position.
Full 2 year warranty and limited 5 year warranty.
Expanded polyurethane foam insulation, for slow heat loss.
Immersion heater element (230 or 115 volt/750 watt) made of copper covered by nickel for a long life.
Immersion heater element mounted to allow internal inspection and cleaning of the tank.
Extra long engine water heat exchanger coil for faster heating.
Special safety valve on 4 bar, with a built-in two-way check valve, which reduces or prevents spill water by expansion.
Simple winter drain.
Double overheat manually re-settable safety thermostat.
Service thermostat set to keep water above 160oF, to prevent the growth of bacteria.
Sturdy mounting straps adjustable 360o for mounting options.

The stainless steel outside cover, as well as the mounting feet, are made of non-magnetic stainless steel AISI 304. The immersion heater has a special mounting, which allows internal inspection and cleaning of the tank.
| | | | | | |
| --- | --- | --- | --- | --- | --- |
| Product name | Dimensions LxD mm | Volume (l) | Immersion heater | Weight (kg) | Max pressure bar |
| Slim 15 | 505x295 mm | 15 | 750W - 230V | 10.5 | 7.0 |