Gme Dual Channel Ais Receiver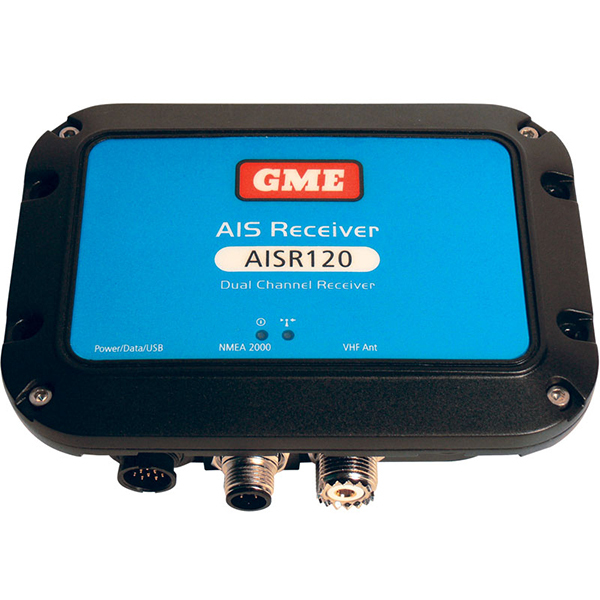 Keep in touch with GME AIS systems - Dual channel receiver!
For boaters requiring an AIS message receiver only, GME offers the dual channel AISR120; incorporating two ultra sensitive receivers coupled to a sophisticated processor with RMax technology. Ideally suited for installation on leisure boats where collision avoidance is the primary concern, the AISR120 can be interfaced to a PC, notebook, or GME chartplotter for greater situational awareness.
The AISR120 will receive both static and dynamic information from both AIS class A and B equipped vessels, aids to navigation and base stations that are within VHF range.
The AISR120 can use either a dedicated AIS antenna, or share the vessel's existing VHF antenna via the AISS120 VHF antenna splitter.
One of the most important safety features and fastest growth areas in marine Navigation is AIS - Automatic Identification System. This collision avoidance technology is particularly valuable to boaters who regularly travel or fish in busy waterways or near major shipping routes. Having an operating AIS transponder onboard will turn your boat into a visible radio beacon indicating your speed, course and identity to other AIS equipped vessels or base stations.
An AIS receiver will allow you to track other AIS traffic in the area and identify 'Aids to Navigation' (AtoN) even when not visibly by sight. You'll no longer be inhibited by limitations like 'inline-of-site' radar. Unlike radar, AIS allows you to 'see' other AIS equipped craft behind obstructions like islands and land masses or hidden behind another vessel, and is equally effective in fog or darkness. AIS information is displayed on dedicated AIS screens or AIS compatible Chartplotters.
AIS Receivers
AIS receivers collect the transmissions from AIS Radios, base stations and aids to navigation displaying them on compatible chartplotters or dedicated displays. An AIS receiver does not transmit information about your vessel and is used to provide you with situational awareness of other traffic and hazards in the area.
Features:
Ultra sensitive receiver
NMEA 0183-2000 compatible
12-24 V DC input voltage
IPX7 construction
Low power consumption
Specifications:
Ingress Protection Rating: IPx7
Power: DC (9.6 - 31.2V) or USB powered, Average power consumption <1W, Current consumption <200mA at 12VDC
Dimensions: 140 x 100 x 42 mm (L x W x H)
Weight: 250g (AIS receiver unit only)
Includes:
AIS dual channel receiver
Power and data cable, screw pack
Product CD
Quick start guide
Instruction manual