Altex Epoxy Barrier Undercoat - 4 Litre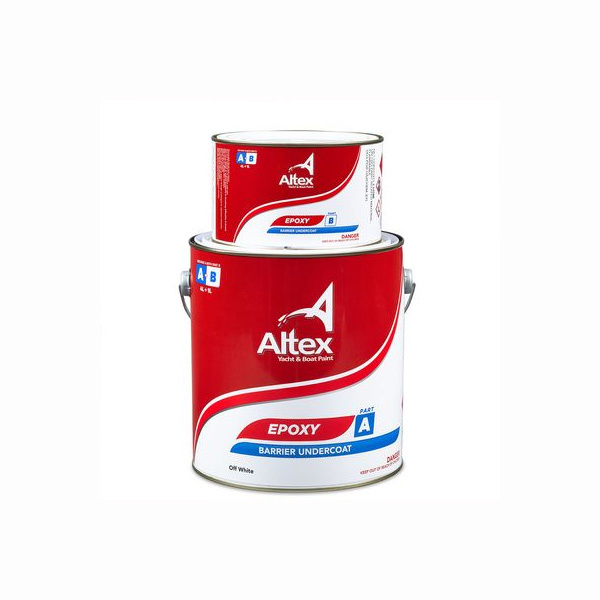 Altex Yacht & Boat Paint Epoxy Barrier Undercoat is a high performance, sandable epoxy high build coating which is both very corrosion and water resistant.
Epoxy Barrier Undercoat is recommended for:
Topside & Superstructure final sealing to provide an optimum surface for finish coating
As a high build surfacer to remove defects and achieve a finish suitable for application of Altex Polyurethane Undercoat or one of the Elite Polyurethane finish coats
As a high build barrier coat for below waterline application, used as part of an Altex Antifouling system
Direct application to sanded GRP, epoxy laminated wood and epoxy sealed wood
Direct application to epoxy faired surfaces
Application over Altex Epoxy Primer or Altex High Build Surfacer
Priming / undercoating over degreased & sanded aged polyurethanes, epoxies, fairing systems, gelcoats, epoxy laminates & fibreglass
Advantages:
Excellent build properties up to 150µm DFT in a two pass application
Excellent surfacing and sanding properties
Very good corrosion protection
Wide maximum self re-coat times for easy project management
Very good water and chemical resistance
Epoxy Barrier Undercoat may be top-coated with both acrylic or polyester urethane finishes and is especially formulated as an undercoat or sealer under the Altex Elite® range of polyurethane finish coats
May be used as a high build surfacer / undercoat for topcoating with Altex Polyurethane Undercoat
May be used in immersion service as part of an Altex Yacht & Boat recommended system

Specifications:
Colour: Off-White
Mix Ratio: 4 to 1 by volume
Thinner: Spray: Altex Thinning Solvent #12
Brush/Roller: Altex Thinning Solvent #22
Pot Life: 8 hours at 25°C
Induction Time: 15 minutes.
Theoretical Coverage Rate: 4.5 sq meters per litre at 100 microns dry
Recommended Film Thickness Per Coat: 225-335 microns wet to obtain 100-150* microns dry (*applied in two passes)
Application: Air or airless spray, brush or roller
Dry Times (25°C / 100 µm DFT / 50% RH): Touch Dry: 90 mins. Dry to Sand: 6 hours
Recommended Recoat:
Min. Self Recoat: 30 – 60 mins between passes. 6 hours between coats
Max. Self Recoat: 5 days without sanding.
Min. To Overcoat: 6 hours for Altex Polyurethane Undercoat
Max. To Overcoat: 14 days with thorough sanding for Altex Polyurethane Undercoat Max. To Topcoat (see cure notes below).
Undercover with Elite® Polyurethane Finish: 12 Days max - freshly sanded within 3 days of topcoating.
Outside with Elite® Polyurethane Finish: 10 Days max - freshly sanded within 3 days of topcoating.
CURE TIME NOTES: Maximum cure times before topcoating are based on thorough fine sanding & dedusting within 3 days and solvent wiping of the surface immediately before application of any subsequent coats. (Dry to sand times will increase with higher film builds, and/or lower temperatures. Cure may be advanced by lightly sanding the partially cured surface with 120 grit to open the film up & allow solvents to escape.)

For more information, Product Data Sheets and MSDS. Please see https://altexboatpaint.com