Shimano Tiagra Ti-80W 2 Speed Overhead Lever Drag Big Game Reel 37Kg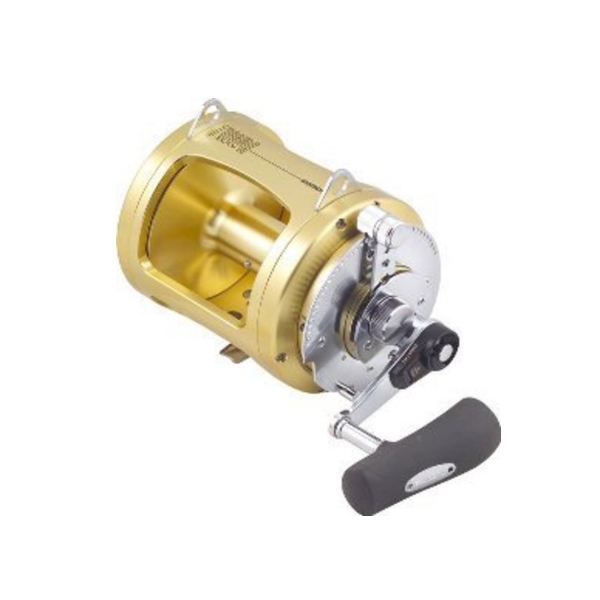 TI80WA, built to last!
Shimano game reels are built to last with extremely heavy duty gearing systems designed to handle those big game fish. The one piece frame is machine cut from an aluminium tube to a thickness of 7mm. A-RB Bearings, heavy duty stainless gears and 2 speed shift mechanism where the pinion and drive gears are constantly meshed. Heavier anodising makes these reels even more resistant to the ravages of salt water, while the click stop drag quadrant permits more precise drag adjustments. The counter balanced handle falls easily to hand when striking a fish and makes winding easier during the course of a long fight.
Tiagra
Tiagra reels combine the finest materials with all the technology and experience gained down the years by Shimano engineers. Machined from one piece of solid aluminium, the Hydrothermal Drag System is famed for precise and reliable operation. Tiagra reels feature a gold finish with extra corrosion protection and an ergonomic handle with two bearing support making this reel as durable as it is comfortable. These reels have porven themselve to be to best in an extremely competitive game fishing market.
Features:
Machined Aluminium Frame: Metal frames have the strength to handle the stresses from battling large saltwater fish, and keep moving parts in precise alignment. They also feature the latest anodising techniques for beautiful, corrosion resistant finishes.
Machined Aluminium Spool.
A-RB (Anti rust Bearings): Anti-Rust Bearings. These stainless steel ball bearings have undergone a unique manufacturing process so they will last up to ten times longer that standard stainless steel ball bearings when used in salt water environments.
Hydrothermal Drag System: As we all know, one of the fundamental aspects of this sport is that the fish we seek are capable of fighting for hours, repeatedly making long runs that can really heat up a drag. Heat build-up can cause the settings to change, leading to insufficient pressure being put on a fish or, at worst, a broken line. The hydrothermal drag system automatically compensates for any heat build-up, thereby maintaining the original drag setting.
Two Speed Gearing: Shifting mechanism designed for quick and easy gear changes. The low gear ratio is easily selected by pushing the button on the base of the handle. To return to normal gear ratio, simply depress the lever on the handle shank. Often copied but never better.
Clicker.

Metal Series: The metal construction showcased in some of our finest reels now appears throughout our line of Metal Series products. Metal frames not only keep moving parts in precise alignment, they also feature the use of the latest anodizing, plating and painting techniques for beautiful and durable finishes.
Chrome Plated Sideplate Screws
Ratcheting Drag Lever
Twin Pawl Anti-Reverse System
Offset Ergonomic Power Grip
DETAILS:
Model: TI-80W
Retrieve: Right

Line Retrieve Per Crank (High/Low cm): 94/48
Max Drag: 24kg
Weight (g.): 3266
Bearings: 4 BB
High Gear Ratio: 2.5:1
Low Gear Ratio: 1.3:1
Mono Capacity (m): 36/868 *See Smart Crew for more options.
Drag Type: LD