Scotty 1085 Strongarm 30" Manual Downrigger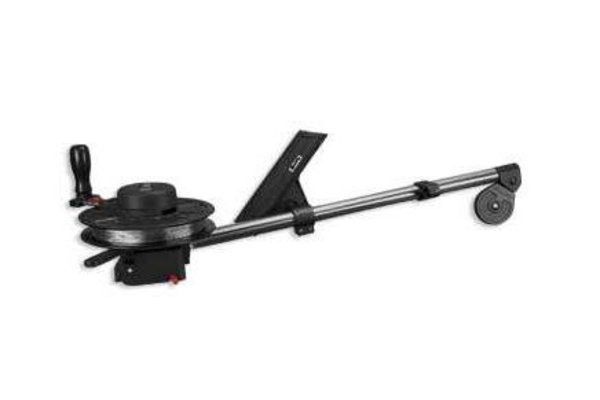 Excellent for the intermediate size boat.
The heavy duty workhorse of the Scotty manual lineup. 2 feet retrieval per turn. Includes adjustable slip clutch control & automatic brake.
INCLUDES:
30" long, 1 1/4" diameter stainless steel boom
Boom mounted No. 350 Rodmaster II rod holder
1 Power Grip Plus Line Release
WHAT IS DOWNRIGGING:
Downrigging has proved itself to be a very successful alternative for getting down to where the fish are in their natural habitat. Whether used stationary or in motion, your depth of fishing can be easily controlled, so in conjunction with a depth finder one's success rate leaps very quickly.
Scotty of Canada have been making downriggers for many years and they are all made with stainless steel components for salt water use. They have been both manual and electric models plus a huge list of accessories to make downrigging possible from any boat.
What is a Downrigger?
A downrigger is a large reel that uses stainless steel cable and a heavy weight to take your lure down to the depth where the fish are. Downriggers will improve trolling results for any species of fish by giving you accurate depth control. You can reach the big ones at precisely their level, deep or shallow.
You attach your fishing rod line to the heavy downrigger cable by means of a 'release clip'. When a fish takes your lure, it is released off the downrigger cable, so you can fish with light tackle, unencumbered by a heavy weight when playing with your fish.
Downriggers put the 'sport' back in sportfishing.