Lowrance /Simrad Outboard Pilot Hydraulic Pack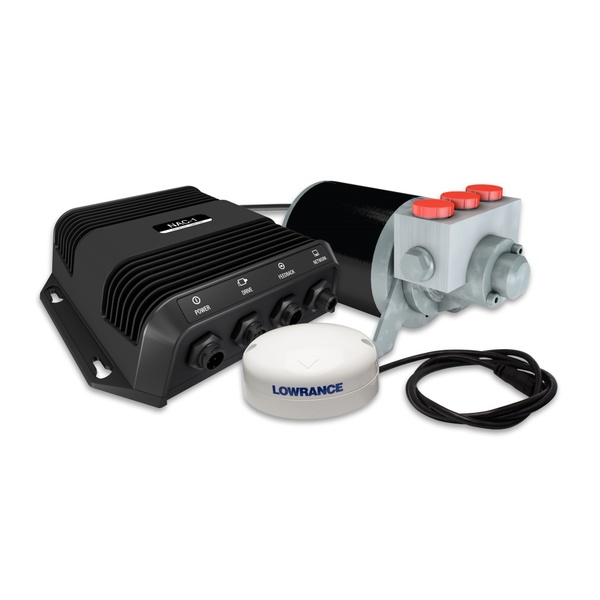 Simrad outboard pilot hydraulic pack with auto steer pilot!
Autopilot pack for Lowrance High Definition System (HDS) displays, providing automatic steering for hydraulic-steer outboard motors. An extra pair of hands when you need it, the Outboard Pilot, featuring Lowrance SmartSteer™ control from your HDS Gen2 or Gen3, will steer to a heading, waypoint or route.
For use with Lowrance HDS Carbon, Gen3 ,HDS Gen2 Touch and Simrad GO XSE Series, NSSevo and NSO evo displays.
Features:
Waypoint, route or cursor, with control from your HDS Gen2 or Gen3 display
SmartSteer™ interface
Xi5 Pinpoint electric-steer trolling motor
"One-touch" route creation from saved trails
Repeat your path with automatic turn patterns
Recommended for single-outboard setups, on boats that are 30 feet and less, in length
VRF (Virtual Rudder Feedback) – simplifies pilot installation -- eliminating the need for a rudder position sensor
Easy setup – straightforward guide steps you through first-time install
Easy-to-install, plug-and-socket connection – with no complex terminal wiring
Supported by Lowrance Advantage Service program
Specifications:
Power Supply (Supply Voltage) 12v DC
Water Resistance: IPx5
Dimensions: 210mm W x 58mm H x 188mm D
Weight: 1kg
Communications: NMEA Input Micro-C
Warranty period: Two year limited warranty, plus Lowrance Advantage coverage
Autopilot/Auto-Steering
NAC-1 drive output: 12V, Max 16 Amps (instantaneous)
Max Drive output: 8A continuous, 16 Amp peak
Network: 1xMicroC
Feedback: Variable voltage from HELM -1 drive unit
Drive output: To PUMP-1 or HELM-1
Includes:
NAC-1 Autopilot Computer
Hydrailic pump - 0.8L
Point-1 AP GPS antenna
N2KEXT-2RD - 0.61m NMEA 2000 cable
N2KEXT-6RD - 1.82m NMEA 2000 cable
N2KEXT-15RD - 4.55m NMEA 2000 cable
TR-120-KIT (1 male, 1 female NMEA 2000 terminators)
Pump Fitting Kit
N2K, 4-way joiner (Low Loss)
Metal auto-standby button
Everything you need in one box to fit an autopilot to your hydraulic-steer outboard motor, the Outboard Pilot lets you focus on fishing activity while keeping the boat on course. When connected to an HDS Gen2 or Gen3, the Outboard Pilot can steer to a waypoint or along a route, select a turn pattern or simply hold a constant heading. The Lowrance SmartSteer™ user interface allows you to easily switch between electric-steer, trolling-motor control and outboard motor control directly from your HDS display. And, with your HDS display, you can easily convert trails to routes – so you can retrace a previous track and get your boat back to the dock from your fishing area.
The Lowrance Outboard Pilot is recommended for single outboard set-ups, on boats that are 30 feet and less, in length.
Hydraulic-Steer Kit includes everything to connect your existing hydraulic-steering manual helm pump:
Pump-1 is a 0.8L reversible hydraulic pump designed to interface to Seastar steering
Hydraulic fitting Kit is compatible with Seastar manual helm pumps