Shimano Tyrnos 50 Lrs 2 Speed Overhead Lever Drag Reel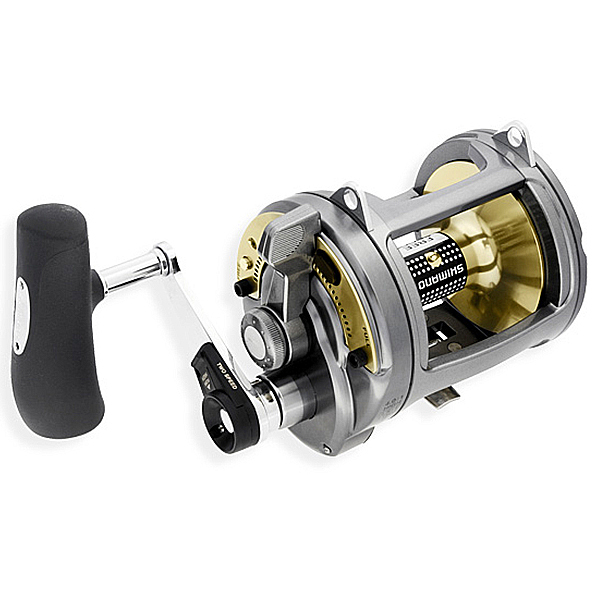 Popular with light and medium tackle enthusiasts!
The Reel:
The Tyrnos range has been very popular with light and medium tackle enthusiasts wanting Tiagra performance without a Tiagra price tag. Trolling for Spanish Mackerel or dropping baits for tasty eating fish such as Coral Trout – the Tyrnos range has proved to be very versatile for a variety of applications.

The drag at strike while retaining adequate free spool is 6kg, while the maximum drag at full (sunset) is 15kg, so you could fill them with heavier braided line and use them for non-IGFA fishing as well. With no cross-bar to get in the way, extra stopping power via thumb pressure can be easily applied if such a situation warrants. Gear speed is 5:1.

If you've been wanting to step-up and tangle with mega class Tuna and Marlin you now can with the introduction of the new 50 LRS model. Just like its II speed cousin, the 50 packs a powerful punch that is going to have just about any game fish surfacing for a gasp of air!
Reel Features:

A-RB (Anti-Rust Bearings)
Topless Design (12II & 16II sizes only)
Reduced Profile Top Crossbar (20II & 30II sizes only)
High Speed Gear Ratio
Oversized Gears
Diecast Aluminium Frame
Oversized Handle Shank
Twin Pawl Anti-Reverse System
Graphite Sideplates with Aluminium Braces
Ergonomic Power Handle
Loud Clicker
Ratcheting Drag Level
Metal Series
Reel Specifications:
Retrieve Per Crank: 112/41cm
Bearings: 4
Max Drag: 19kg
Mono Capacity: 23kg/640m
Drag Type: LD
Weight: 1625g
Powerpro Capacity: 100lbs/850yds
Gear Ratio: 4.0:1, 1.5:1