Bennett 12V/Hydraulic Trim Tab Set 10"X12" W/Auto Retract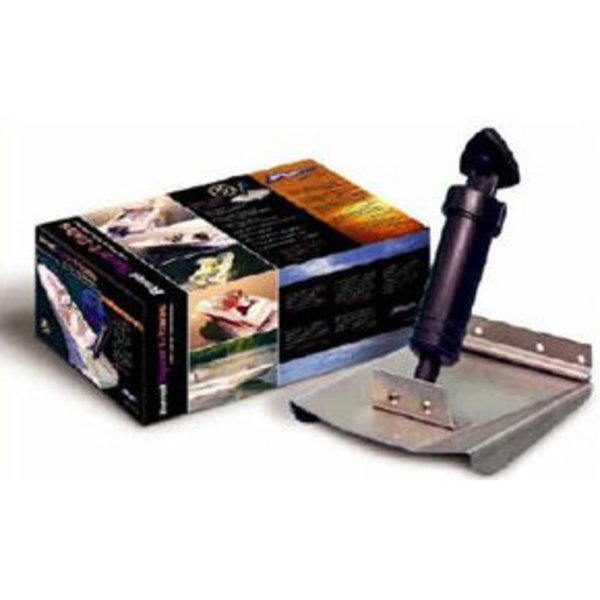 Complete kit and includes rocker switch and auto retract.

Suits boats (6-7.5 metre)
Sport Tabs combine high performance and easy installation in a compact and affordable package. Trim for unequal passenger loads without moving people around the boat. Get out of the hole and on plane quickly. Improve fuel efficiency by 20-30%. Increase Speed. Correct for listing and uneven weight distribution. Pull more / heavier skiers.
Their unique Batwing design provides 30% more lift than conventional Trim Tabs. Space saving design insures easy installation on virtually any transom.
DETAILS:
Bennett Trim Tabs are designed and manufactured with pride at the Bennett Marine plant in Deerfield Beach, Florida. Every Bennett system carries with it an accumulation of nearly 40 years of research, development, and testing and is designed to provide years of dependable service.
Every trim tab is sheared and bent, not welded. Welding alters the properties of stainless steel which invites corrosion. Bennett actuators feature patented through-hull hydraulics. There are no vulnerable external hoses to decay. Plus, every Hydraulic Power Unit is tested by both person and computer to insure this reliable unit deflects the trim tabs, holds firmly during use, and retracts smoothly.
Do It Yourself in just a few hours and some common tools are all that is needed. Components of the Bennett system are designed and packaged with the do-it-yourselfer in mind. Every kit is complete, featuring one page step-by-step instructions, with templates. Comes with an installation video.
What Trim Tabs Do:
Most boats are designed to plane at a particular speed and weight distribution. However, as weight increases (due to additional fuel, passengers, or gear) and/or speed decreases, the stern settles down creating an inefficient, untrimmed condition. As the boat pushes forward, it creates a "hill of water." In this bow-high position visibility is limited and the hull bottom is pounded. In addition, due to significant hull drag and extreme prop angle, fuel economy is poor. Properly sized Bennett Trim Tabs enable your boat to overcome this "hill" and plane at speeds slower than designed planing speed.
As the helm control is pressed, the stern rises, lowering the bow. Without touching the throttle, speed increases and optimum attitude is achieved regardless of speed or weight distribution.
Bennett Trim Tabs reposition the boat's bow to cut through the water reducing pounding, drag, and engine laboring. Repositioning the bow creates greater visibility which increases safety. Reduced pounding means greater comfort. Less drag and engine laboring translate into increased performance, greater speed, and reduced fuel consumption.
With all the advantages and efficiencies created, Bennett Trim Tabs virtually pay for themselves.
THE PRINCIPLE OF BENNETT TRIM TABS:
Bennett Trim Tabs are two independent, stainless steel, adjustable afterplanes attached to the bottom edge of the transom. As the helm control is pressed, the trim tabs move into position.
Water-force on the trim tab surface creates upward pressure, thereby raising the stern and lowering the bow. The principle is simple. The results are impressive.