Seastar Hydraulic Outboard Steering Kit To 600Hp - Front Mt - Dual Engine (15M Hose)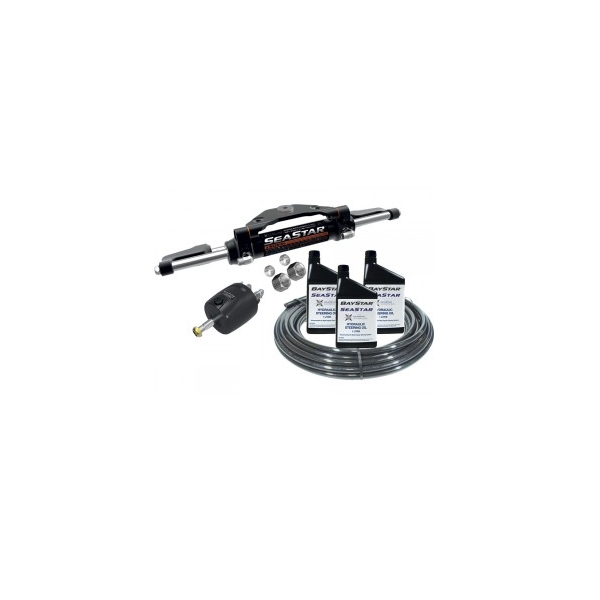 Teleflex Seastar . World's no.1 brand in Hydraulic Steering.
3-Yr Warranty
Suits most twin outboards to 300hp each counter rotating or 225hp each non-counter rotating both with fluid linkand include synchronistion valve. For twin outboards with tie bar link see Smart Crew. For single outboards to 350hp see Seastar kit (our part no.#291600)
Seastar front mount steering offers unmatched comfort and control. The worlds most popular outboard hydraulic system offers smooth, super efficient steering for today's high performance hulls with single or multiple outboards. 20% less effort at hard over than competitive brands. Ultra corrosion resistant materials are used throughout.
Included components are as follows;
How it Works

The SeaStar Hydraulic System
High-horsepower/high-speed boating is here and steering systems must perform at maximum capacity. The SeaStar Hydraulic Steering System is designed to provide that extra margin of muscle when needed and easily handles Outboard, Sterndrive and Inboard engines in boats up to 50 feet.
System selection, installation and service is substantially simplified with just three major components – helm, cylinder and tube or hose. SeaStar has a comprehensive range of available cylinders to handle a variety of Outboard, Sterndrive and Inboard steering applications. These are suitable for both pleasure and commercial applications. Extra steering stations and/or autopilots are easily added.
SeaStar hydraulic steering is a total commitment to quality, performance and simplicity.
SeaStar, the hydraulic steering system that is:
Easy to install…
Only three components: helm, cylinder & tube or hose
Compact and attractive helm design
Variety of helm mounting configurations
Simple tube/hose fitting connections
Clear, complete installation instructions
Easy to fill and purge…
Engineered bleed fittings on the cylinders
A helm and lock valve design that enhances air removal
A no-mess filler device
A filling and purging time of normally less than 30 minutes
Easy to check for proper installation
Easy purging check via filler device
No searching for difficult-to-find air leaks
Easy to turn…
Anti-friction piston points
Designed to provide many years of service…
Precision built
Heavy-duty bearings instead of bushings
All metal construction
No corrosive materials exposed to marine environment
Field replaceable helm and cylinder shaft seals
SeaStar! Simply the best!

System Components

SeaStar hydraulic steering systems are simple and efficient. The basic system consists of three main components:
1. the helm pump.
2. the cylinder.
3. the hose or tubing required to connect the cylinder to the helm pump.
These basic components are necessary in all applications. However as the system variables increase (e.g.: multiple engines, rudders, steering stations and autopilots), additional components may be required.
1. The Helm Unit
The SeaStar helm pump is an axial piston pump specifically designed for manual steering. It has a built-in lock valve to prevent the steering load from feeding back to the driver. The lock valve will not allow the rudder or drive unit to move until you move it with the steering wheel. The lock valve section of the helm also includes a relief valve. This relief valve provides over-pressure protection for mechanical components and hydraulic hoses and fittings.
2. The Cylinder
The most important differences between the variety of SeaStar steering systems available is the cylinder selection. The SeaStar system has a cylinder for most steering applications.
3. Hoses and Tubes
Required to provide a path for the fluid to flow under pressure from the helm pump to the cylinder.

Pro Hydraulic Cylinder:
Kits now include the Seastar Pro front mount (bullhorn) hydraulic Cylinders and has been specifically designed and manufactured to increase feel and control of high performance outboard powered vessels that have a high level of wear and tear and are used frequently.
Key features of the Pro Cylinder include, heavier duty pivot plate bushes that reduce wear in harsh conditions and longer cylinder rod bushes which create a better seal on the end gland. The cylinder is more rigid due to the addition of the key ways on the support rod and support brackets. The patented 'pivot' mount design, utilised on the Pro Cylinder, guarantees continuous smooth, comfortable steering, and maximum effi
Turn ratio 4.9 turns.
Kit Includes:
SeaStar™ helm pump .
SeaStar™ PRO Series front mount cylinder to suit engines – refer below.
15m semi-rigid nylon hose.
2 x 600mm outboard well hose
Synchronisation Valve
2 x nut and olive kit.
4 x 1 litre SeaStar Solutions® oil.
Plus free oil filler kit.
2 x spacer kits
**Please note steering wheel not included.
APPLICATIONS

Note in some retro fit helm applications a back plate kit (our part no. 8021549) or a spacer kit (our part no. 8021516) may be required. In some applications also it requires the pivot plate to be flipped.
Note also in most applications to150hp Baystar kit can also be used (our part no. 291560). Difference being helm displacement (turn ratio) only. Baystar kit 5.5 turn ratio and Seastar kit 4.9 turn ratio.
Force
90-150hp 1985 to date: ALL

Honda
75-250hp 1992 to date: ALL except 115-130hp 2010 to date and BF200-250 which require alternative mount cylinder (see Smart Crew)

Johnson/Evinrude
75-300hp 1991 to date: ALL except 115hp Ficht 2000 to date and 40-140hp 4 stroke 1998 to date require spacer kit (our part no. #8021516 and pivot plate may need to be flipped before install.
Mercury/Mariner
75-300hp 1984 to date: ALL except 2.4L/2.5L EFI 1984-1994.150-200hp Verado 2004 to date require alternative mount cylinder (see Smart Crew)

Tohatsu
90-140hp 1990 to date: ALL
Suzuki
40-300hp 1986 to date; ALL except 115-140hp 1996; 40-140hp 4 stroke 1998 to date require spacer kit (our part no. #8021516) and may require the pivot plate flipped before install.
Yamaha
75-350hp 1997 to date; ALL. 75-140hp 4 stroke 1998 to date; 75-90hp 2 stroke require spacer kit (our part no.#8021516). Some models require the pivot plate to be flipped before install.
Two easy steps to order your Seastar Steering kit:
1. Check helm dimensions: Cutout diameter 67mm; Maximum width of helm 113mm; Dash thickness (max) 45mm; Helm extrusion 149mm (including shaft extension).
Easily installed to your existing console to create a professional finish.
Easy front of console filling point for hydraulic oil.
Simple purging process.

2. Check cylinder dimensions for splashwell fit: 534mm minimum splashwell width, 127mm minimum splashwell tilt clearance from bottom of tilt tube to bottom of splashwell.
Supplied in kit form with all the components required to complete your installation.
(STEERING WHEEL NOT INCLUDED, SOLD SEPARATELY)
efficiency even at the 'hard-over' positions.