Inter Epiglue Epoxy Glue Pop-Top (2 Part)- 175G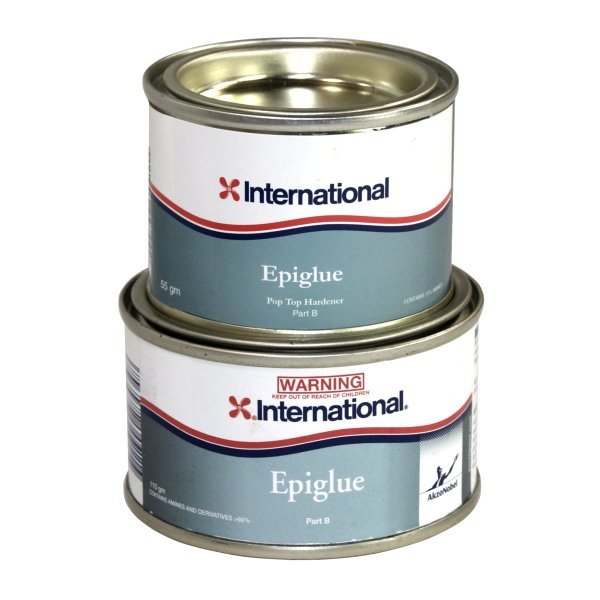 Suitable for use above and below the waterline, comes with pop-top lid.
Epiglass Epiglue is a high performance marine and general performance epoxy resin adhesive. Its thixotropic nature enables it to be used for both close contact and gap filling joints. It offers a virtually colourless glue line once cured.
PRODUCT DESCRIPTION:
A thixotropic high performance two pack modified epoxy polyamide adhesive.
* Thixotropic giving no sag
* Virtually colourless glue line
* Hard tough cured glue line
* May be used for gap filling and close contact type joints
* Smooth and easy to mix
PRODUCT INFORMATION:
Colour- YAA950-Amber Cured film is light amber.
Specific Gravity- 1.1
Volume Solids- 100%
Mix Ratio 2:1 by volume (as supplied)
Application: Number of Coats: 1
Method of application: Trowel / Knife
Supplied with hardner.
DRYING TIME: Hard Dry [ISO]
10ºC: 14days
15ºC: 7days
23ºC: 7days
35ºC: 5days
APPLICATION AND USE:
Preparation All substrates must be clean, dry and free from contaminants.
Hints:
Mixing- Mix the two components thoroughly to an even colour. Note that pop tops have a shortened pot life at higher temperatures compared to the standard hardener.
Thinning- Do not thin.
Cleaner- YTA061 International Epoxy Thinners #7. Clean before product has started to gel. Once cured, the product is very difficult to remove.
Ventilation and Humidity Control- Ensure adequate ventilation during use.
Other- Note the different curing and application temperature ranges for the two grades of hardener available. Clamping times suggested are a guide only. Joints under high stress should be left for longer periods.
Some Important Points:
Avoid high clamping pressures as starved glue joints may result. Do not use below 5°C. Product temperature should be minimum 5°C and maximum 25°C. Ambient temperature should be minimum 5°C/40°F and maximum 35°C/95°F. Substrate temperature should be minimum 5°C and maximum 30°C.
Compatibility/Substrates- Not suitable for use with some pretreated timbers.
Number of Coats 1- Apply glue to both faces being joined.
Coverage (Theoretical) - 2.00 (m²/lt) For a 0.5 mm glue line.
Recommended- DFT
Application Methods- Trowel, Knife / Spatula