Jabsco Premium Washdown Pump (Set) 12V - 19Lpm - 70Psi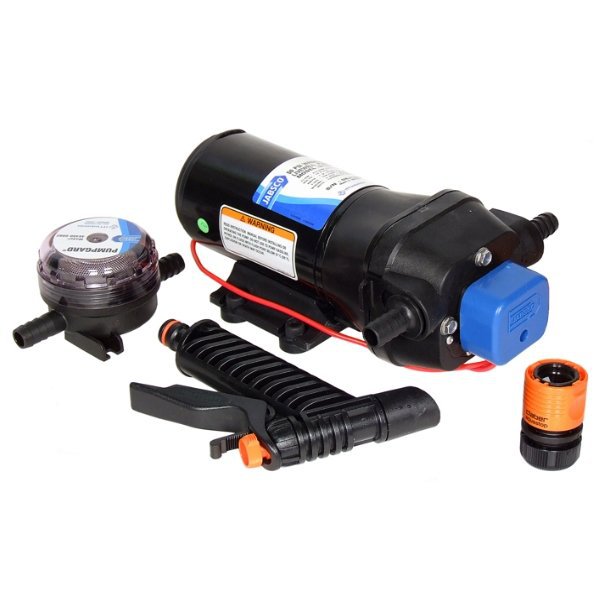 Heavy duty washdown pump supplied with inlet strainer, trigger nozzle & 25' hose.
Robust five chamber, patented co-injected molded diaphragm and larger
heavy-duty motor brushes significantly extend pump life by up to 50%. The
HotShot Series Washdown Pump is 5.0GPM (18.9 LPM) with pressures up to 70 psi (4.8
bar) and are self-priming up to 10' (3m).

Sealed switch and co-molded
diaphragm eliminates leak paths,
extending the life of the pump by
up to 50%.
Ergonomically designed spray nozzle
provides powerful and accurate fire
power with everyshot.
Quick-disconnect ports allow for
adjustability and ease of installation
Kits include spray nozzle, fitting,
Pumpgard™ strainer and hose.
Improved noise dampening rubber
feet significantly minimize vibration
when mounted against hard surfaces.
12V DC.
Certified to EN ISO 8846 Marine
(Ignition Protection)
FLOW 5.0 GPM (18.9 LPM)
SHUT-OFF PRESSURE 70 psi (4.8 bar)
FITTING Connections for 3/4" (19mm) straight hose barb
SIZE 5.0 GPM 10.6" long x 5.09" wide x
4.34" high (26.9cm x 12.9cm x 11.1cm)
WEIGHT 5.0 7.6lb (3.5kg)