Fineline 12Mm Hi Perf Yacht Or Drum Winch Anchor Braid Dyneema - Per Metre - Fluo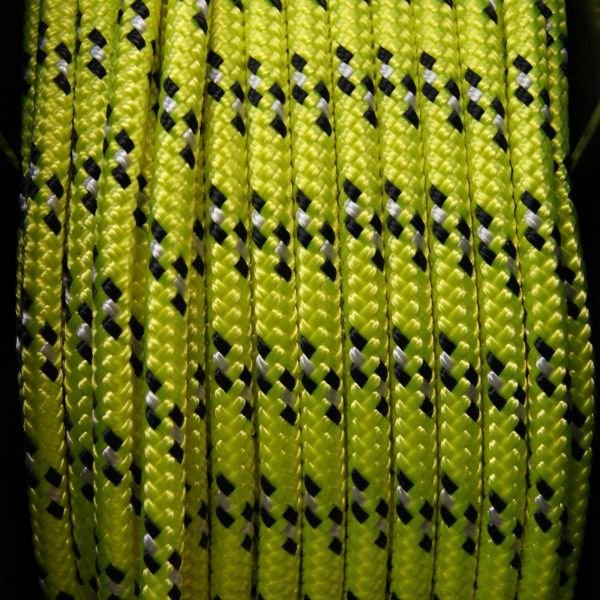 Dyneema© Fibre Braid (The world's strongest Fibre).
Features:
Polyester outer sheath for protection
High strength
Low elongation
Light Weight
Ideal for sheets, guys and controllers
Excellent chemical and UV resistance
No Stretch
Marine Standard
Specifications:
Colour: Fluo Yellow
Size: 12mm
Breaking Load (approx): 4800kg
Length: 1 Metre (ea)
BRAID ADVANTAGES:
Braided ropes have a unique advantage in that the fibres lock tighter together as the load increases. They are stable with respect to twisting because there is no unbalanced twist as found in a folded rope. (Twisted or laid ropes untwist as the load increases which tends to loosen the fibre hence lowering inter-fibre friction allowing rupture to occur at much lower forces)
The rope consists of a low twisted compact inner braid primarily to add strength and a twisted braided outer which provides strength and abrasion resistance to stand the test of time. The outer yarns are folded in the "S" and "Z" directions and then braided so as the individual fibres lie in-line with the rope itself. This stops individual fibres catching on any minor protrusions while in use. While the outer adds to the strength of the rope its primary design function is to give durability.
The outer also gives the manufacturer the opportunity to add colours to distinguish individual ropes. Also Nautilus Braid has colour codes to distinguish our own ropes and the type of inner and thus recommended application the rope might have.
In the double braid structure we also use the high tech/high strength fibres in the inner for strength with a PE outer giving protection from the elements.