Smart Space 3 Piece Baking Pan Cookware Set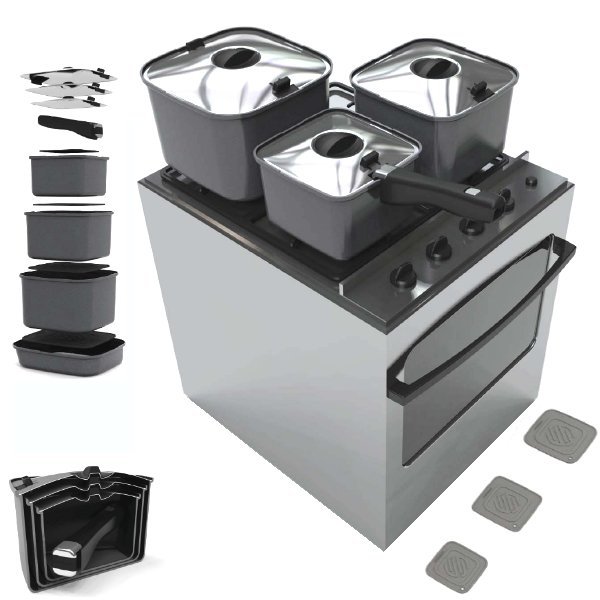 Saves space on the stove and the cupboard too as it stacks!

SmartSpace cookware not only saves space on the cook top, it also saves space in your cupboards! SmartSpace was designed to stack. Each pot stacks neatly inside the next. The revolutionary handle is removed and stored at the click of a button. SmartSpace can also be used to store food in your fridge. The clever steam venting system doubles as a seal for storing.
Cookware Specs:
A. Durable drop Forged 3mm aluminium walls.
B. Stainless steel lid.
C. Silicone heat resistant knob.
D. Steam vent, refrigeration seal,handle opening.
E. Impact bonded heat transfer.
Handle Specs:
F. Injection molded heat resistant body
G. Unique locking mechanism - the heavier the pot the stronger the hold.
H. No heat transfer non scratch pads.
I. Cast Stainless Steel core for extra strength.
J. Two safe and easy detachment buttons.
Set includes:
A) 3 Quart Pot, Lid and Silicone Pad
B) 2 Quart Pot, Lid and Silicone Pad
C) 1.5 Quart Pot, Lid and Silicone Pad
D) Detachable handle (one)
**Oven not included.