Lewmar Pro Fish 700 Rope/Chain Anchor Winch W/Freefall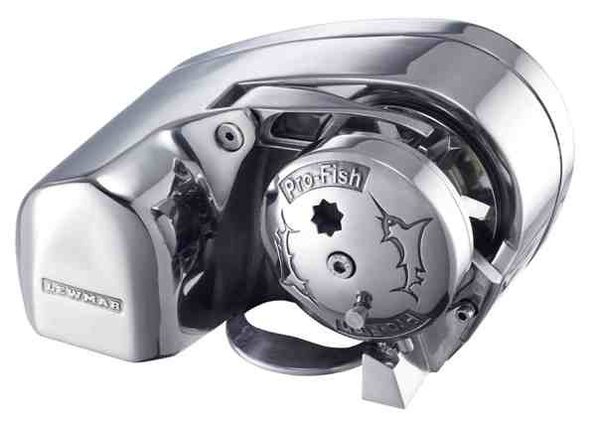 The Pro Fish 700 Freefall Horizontal Windlass is the ultimate windlass for fishermen.
The horizontal Pro-Fish has an automatic freefall that allows you to pull right up over a wreck or ledge, and drop anchor with speed and precision. No more running your motor or wasting fuel while you "hover fish".
When you're ready to go, you can retrieve your anchor just as easily, with the push of a button. Plus, the Pro-Fish comes equipped with a reliable spur gear-box, is DIY ready and made of 100% 316 stainless steel. Strength, speed, efficiency and durability - a perfect catch, all around.
Includes:
Windlass
HD Toggle switch
Circuit breaker
Base gasket seal
Fast-mounting studs
Installation wrench
Installation and operation manual
Features:
Automatic freefall
Powerful motor providing fast line retrieval speed
Manual recovery operation-all you need is a common 1/2"(12mm) socket wrench
Strong 100% 316 Stainless steel, including control arm and stripper
Maximum pulling power: 700lbs (320Kg)
Convenient above deck installation
5-year warranty. 1-Year motor and seals
Specifications:
Rope Size 1/2" / 12mm
Chain size 7mm DIN 766 short link
Motor Power 500W
Max Pull 700lb
Max Line Speed/Min 105ft
Working Load 175lb
Normal Current 35A
Line Speed/Min 88ft
Package price includes switchgear (except foot switch/s).
Lewmar Pro-Fish 700 is a stainless steel, freefall anchor winch dropping anchor with precision.
Use 10mm tinned cable rated AWG/B&S 8 for lengths up to 7m. Our Code #115960 (red) #115961 (blk)
Use 16mm tinned cable rated AWG/B&S 6 for lengths up to 16m. Twin Core. Our code #58428 (red/blk)