Shimano 80G (3Oz) Lucanus Slow Jig- Orange/White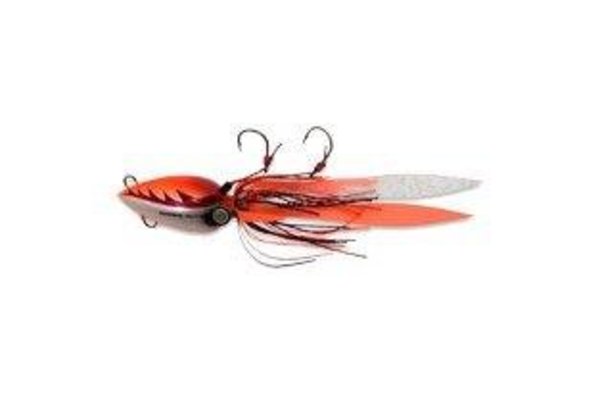 Exciting way to catch bottom species, especially in cold water.
The aerodynamic head design lets it sink quickly to the bottom and stabilises the jig when it is retrieved. In between a jig and a soft bait.
What is Lucanus?
Only recently did recreational anglers of Japan uncover the commercial angler's secret of the "Snapper Rubber Jig" which results in the successful catching of red snapper. Since the discovery, recreational anglers modified the jig to make it the hottest technique in Japan to date.
Shimano began researching this technique and developed the U.S. version of the jig and technique necessary for the U.S. waters and called this the Lucanus Jig. Fishing in Southern California, Mexico, Cape Cod, Louisiana Oil Rigs, and Alaska from Rockfish to Yellowtail to Snapper to Cod, we saw amazing results and now Shimano shares that secret with you.
FEATURES:
Aerodynamic head design lets it sink quickly to the bottom and stabilize the jig when it is retrieved.
Dual eyelet design allows the bottom eyelet to be used to tie the line with a sinker for fast current condition.
Glow eye for extra appeal in the deep water.
Multiple hook system provides higher hook-up ratio.
Durable silicon skirts and trailers wobble and vibrate during the jig movement.
Why Fish Lucanus
Enhance sportfishing
Bottom fishing with heavy tackle and cut-baits can be laboring and time consuming; however. Lucanus takes the labor out of sportfishing and provides you the freedom of fishing without the need for live bait.
Fish all season, each season
Lucanus is effective in each season but performs the best in cold water conditions when fish aren't so active.
Easy to fish with
Lucanus is an easy and simple style of bottom fishing with light tackle. Unlike Shimano's Butterfly Jigging technique's quick up and down motion, the Lucanus technique is a slow up and down motion a few feet over the bottom.
Fun to fish with
Fish bites are visible and can be felt directly through the soft rod tip guaranteeing anglers excitement and enjoyment.