Magma Deluxe Version Ss Kettle Ii 17" Party Size Barbecue Bbq - A10-217L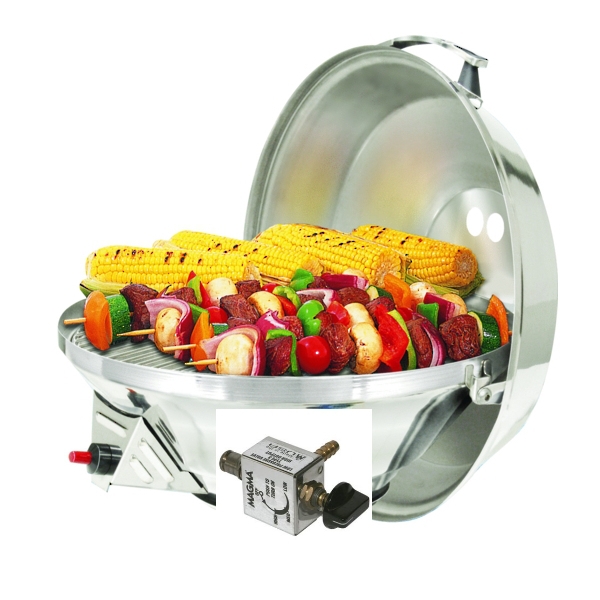 The Marine Kettle 2 is user friendly -- even in the wind. Its dependability in a stiff breeze is due to a virtual blow-out proof turbo venturi and valve system. It includes a front mounted piezo igniter, as well as a patented burner and heat distribution system that reduces flares-ups. The burner also adds years of life to the grill by directing more heat to the cooking surface. These grills have full, double lined inner safety shells to keep the outside of the grill cooler. A mirror polished, 18-9 marine-grade stainless exterior finish provides superior corrosion resistance. On the top is a polished, stainless "Stay Cool" handle. The hinged lid is balanced so it won't slam shut as the boat rolls. Magma's patented plate and dome system make it the only boat grill that is truly a grill, stove or oven -- a great advantage to boats without a galley, or if the first mate just wants to cook outdoors. This BBQ comes with fully adjustable LPG control valve. The Optional 'Gaz' valve for use with butane cartridges can be bought separately. The grills feature a new cast stainless indexing bracket and clamp to provide easier, more positive level mounting.
Features.
The newly designed, swiveling, wind proof turbo venturi valve design eliminates blow-outs and places the fuel & valve where it is convenient to you, allowing for safe & easy fuel changes.
The hinged lid is balanced and will not slam shut.
Reliable Piezo Igniter. Dependable push button lighting.
High tech radiant plate & dome heat distribution design means less flare up,even heat distribution & longer grill life.
Use as a grill, stove or oven. Perfect even heat as a grill or direct open flame cooking as a stove.
"Stay Cool" handle with air cooled supports. Cast 18-9 Stainless.
Cast 18-9 stainless L-bracket mount clamp, indexed for non-slip level mounting.
Double lined stainless steel inner safety shell. Cooler for safety. Guards against discolouration. Adds years of life to the grill.
Magma's patented design utilizes convection cooking to give the hottest temperature with the least amount of fuel.
Requires grill mounting hardware for complete installation.
Radiant burner plate & dome system, indexing bracket and clamp, and turbo venturi tube are available to upgrade earlier Magma Gas grills.
Replacement parts are stocked in NZ and readily available.
Mounts sold separately.