Dometic Coolmatic Crx-80 12V/24V/100-240V Fridge 78 Litre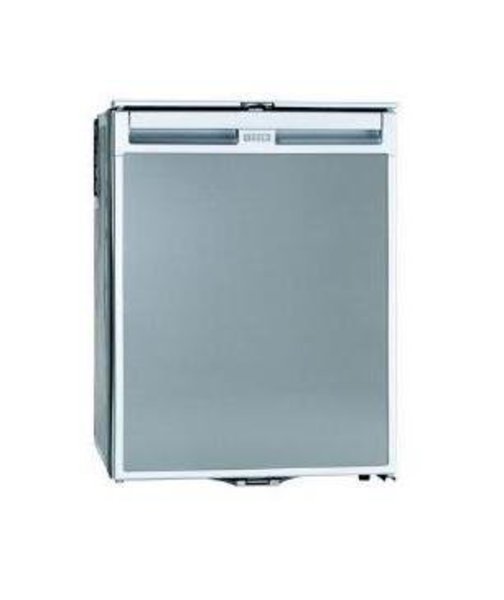 Compressor fridge for yachts and motorhomes!
The CoolMatic CR series of built-in refrigerators combine timeless elegance and innovative features for extra comfort and convenience. The CR range means you can enjoy home-standard cooling comfort on board your caravan, motorhome or boat.
Stylish cool-blue component colours, enhanced by interior lighting, each with separate insulated freezer compartment and integrated evaporator.
Granted the renowned DAME (Design Award Metz) Award, the jury particularly commended the excellent design of the innovative, tropical-rated high-end refrigerators - the well-balanced blend of styling, functionality and construction.
Specifications:
Voltage: 12/24/240v volts DC
Built-in dimensions (WxHxD): Without door: 475 x 640 x 475 mm
With standard frame: 479 x 642 x 475 mm
Weight: 23 kg
Average power consumption: approx. 48 watts
Current consumption: 1.8 Ah/h at +25°C ambient temperature, 2.1 Ah/h at +32°C ambient temperature, both at +5°C interior temperature and -18°C in the freezer compartment
Insulation: CFC-free PU foam
System: Fully hermetic Danfoss BD35F compressor
Material: Stainless steel fittings, plastic interior, plastic door frame, body with coated metal frame
Colour: Body: black, door frame: silver, door panel: mat silver (brushed stainless steel appearance)
Test marks: TÜV/GS, e-approved according to 95/54/EC (EMC guidelines for vehicles)
Item designation: CoolMatic CR-80
Ref. No.: CR-0080E
Features:

WAECO CoolMatic CR built-in refrigerators combine the best of both worlds - timeless elegance and innovative features for extra comfort and convenience
Stylish interior design in Cool-Blue, enhanced by interior lighting
Separate, insulated freezer compartment
Automatic defrosting of the refrigeration compartment
For extra convenience: egg compartment, baskets, shelves, bottle holder
Double lock system (top & bottom)
Integrated evaporator, fitted separately for full utilisation of cooling and freezing capacity
Standard or flush-mount installation frame available
Interior light, door with magnetic seal, variable door mounts and locks right/left, door with double lock (top/bottom) and dual function (locking/ventilation), separately insulated *** freezer compartment, additional, foamed rear-wall evaporator in the interior, easy-to-change decor panel
Premium built-in refrigerator in stainless steel look for yachts, boats and motorhomes
Gross capacity: approx. 80 litres including 7.9-litre freezer compartment