Hella Endurant R232 Cyclemaster Deep Cycle Marine Battery-6V/232Ah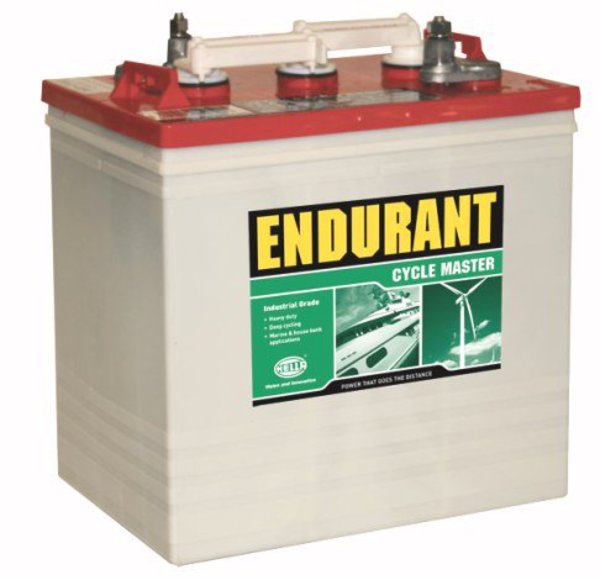 Marine flooded, low maintainance type battery.
The HELLA ENDURANT CYCLEMASTER is a high integrity deep cycle battery. 'Commercial grade' thicker plates than the 85/105 & 130 Cyclemasters. The R220 is the best deep cycle battery on the NZ market & is why they are used in all top electric forkhoists. They can be run down & charged up again more times than any other deep cycle battery. Lots of power filling minimal space, (tall box, rather than wide).
With thick plate grids plus glassmat separators and hotmelt cell group bonding, this robust construction provides a good cycle life and resistance to corrosion when subjected to top of charge and float duty charging voltages.
The Hella Endurant Cyclemaster range has proven to be extremely reliable in a variety of applications.
• Low Maintenance - reduced water loss. Can easily top up water if required
• Anti-Vibration design - prevents damage caused by shock and vibration
• Heavy duty plates providing excellent cycling and extended life
• 2 year warranty: These batteries have a warranty giving free replacement within 24 months from date of purchase if the battery fault is due to faulty materials or workmanship on the part of the battery. Warranty is void through misuse, misapplication or other abnormal factors which affect the battery.
SPECIFICATIONS:
Detail: 6V
Type: Deep Cycle
Assy: L6
Terminals: Universal Terminal. (Has 17mm Stainless Steel Stud which can be cut off)
Length: 260mm
Width: 180mm
Height: 279mm
Weight- Kg: 29
CCA: N/A (Cold Cranking Amps)
A/hrs: 232 (when 2 are put in series to make 12v)
SIZING DEEP CYCLE BATTERIES:
Sizing of marine batteries is critical to the performance of electrical items on any vessel. Insufficient capacity results in systems failure, poor battery performance and shortened battery life. Remember that a battery only stores power. Charging capacity with the number of hours is equally as critical to good battery performance. Periodically ensure your battery is fully recharged. Establish the power consumption of each accessory (in watts or amps), the number of operating hours you will use it and the electrical systems voltage.
Watts ÷ Volts = Amps Amps x Hrs in use = Amp/Hrs
For example:
| | | | | | | |
| --- | --- | --- | --- | --- | --- | --- |
| Circuit | No. | x Watts | ÷ Volts | = Amps | x Hrs/Day | = Amp/Hrs/Day |
| VHF | 1 | 5 | 12 | 0.4 | 2 | 0.8 |
| Stereo | 1 | 30 | 12 | 2.5 | 4 | 10 |
| Cabin Lights | 3 | 21 | 12 | 5.3 | 3 | 15.8 |
TOTAL=26.6 AMP/HRS PER DAY: Total usage for the above application is 26.6amps between charging periods. For safe assurance and longevity of battery life multiply the usage (26.6amps) x 2.5 - 3 = 66 - 75amp/hrs. Therefore you will require a miminum of a 65amp/hr battery. Engine running time is also imperative to ensure
batteries are fully recharged.
BATTERY CARE AND MAINTENANCE:
1. Always select a battery that has enough cranking power or capacity to get the job done.
2. Periodically ensure your battery is fully recharged. Without use some batteries discharge up to 10% of their capacity each month. (flooded type).
3. Failure to charge a battery will cause sulphation leading to poor life and performance.
4. Check battery levels monthly. Ensure they are at the upper level indicator. Top up using distilled water. If topping up is required more than 3 times a year contact the Smart Crew!
5. Ensure battery terminals are clean. If corrosion occurs, pour boiling water over terminals and cover with either vaseline or a grease based applicant.
6. Keep battery top clean and acid free, ensure battery is held down securely for extended life.
7. Only use a battery for its designed purpose. i.e. Marine Engine Start, Deep Cycle etc.