Origo Oh3000 2 Burner Stainless Steel Meths Stove/Hob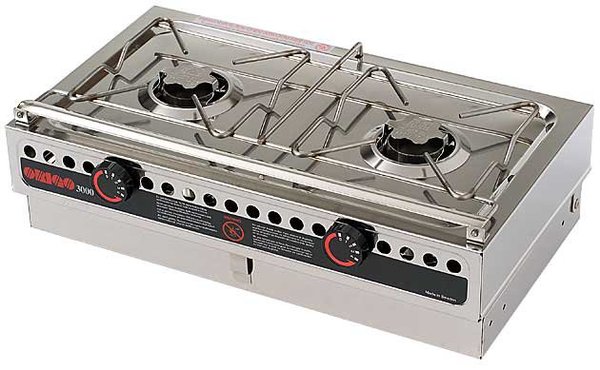 The Origo 3000 is truly a classic in marine/rv stoves.
It's the two-burner, pressure-free, alcohol-fueled stove that's suitable for all types of boats. You'll enjoy your boating to the fullest with Origo - still the safest stoves on the high seas. Optional gimbal set and potholders available.
Simply pour denatured alcohol into Origo's stainless-steel canister where fuel is absorbed and bound in a non-flammable wool material. Origo utilizes natural capillary action to draw alcohol from storage to surface, which means there is no dangerous pressure involved. That's why boating enthusiasts the world-over depend on Origo, the most trusted name in marine appliances.
Power: 14000 BTUs (approx.) 7000 BTUs per burner
Type of Fuel: Denatured alcohol
Fuel Capacity: 1 qt. 8 1/2 ozs. (1.2 liters) per canister
Average Cooking Capacity: 6-8 hours for 1 qt. of water per filling
Boiling Time: 6-8 minutes for 1 qt. of water per burner
Weight: 14 lbs.
Dimensions (HxWxD): 5 3/8" x 18 5/16" x 10 5/16"
With Gimbal: 9" x 20 1/8" x 10 5/16"
**Accessories are available for these also.