Shimano Genpu 200Pg Reel / Engetsu Bb 6Ft9 Slowjig Boat Rod Combo W/Braid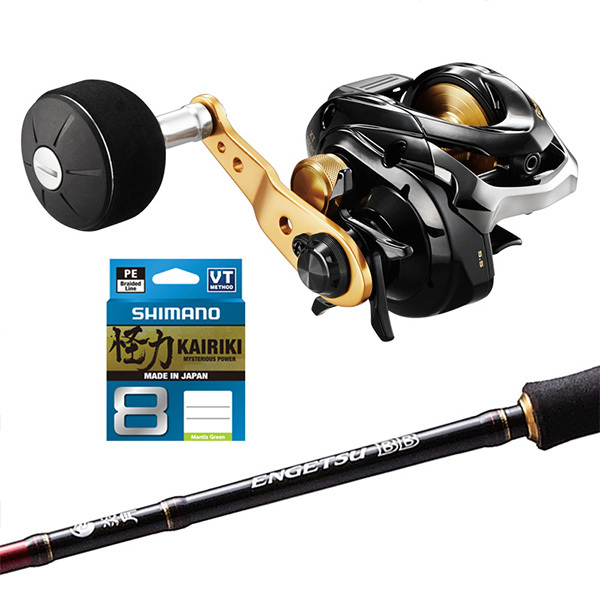 A dynamic combo that's sure to catch you a pile of fish!
The Rod:
Shimano Engetsu BB represents Jigging performance without the high price tag. This rod blank are designed to have excellent cushioning properties and uniform curve range when Jigging for species like snapper. cod. John dory and kingf Ish.
The Engetsu range represents amazing versatility! A highly sensitive "nibble tip" allows for a Jig action at the business end that predators look for in a wounded prey Item and find irresistable also include quality Fuji guides. Also featuring a uniform curve range in order to spread the load when catching larger fish!
Rod Features:
Fuji Spiral Wrap Guides
Tuftec Long Solid Tip
Stainless Steel Frame K Guide
EVA Gimbal
Graphite Reel Seat
Custom EVA Grip Assembly
Rod Specifications:
Model: B69MHS
Pieces: 2
Type: Spin
Length: 6' 9" (2.1m)
Line Weight: PE1.5
Lure Weight: 45-200 g
The Reel:
The Shimano Genpu XT was developed to take on a wide variety of boat fishing applications such as Engetsu Slider. Wonderfall Jig, BottomShip and Lucanus fishing. The aim was to engineer a powerful baitcaster reel yet still maintain lightness In the hand and the Shimano Genpu XT family covers the brief without fault. The Shimano Genpu XT 150 size reel comes In both right and left hand configurations. the 200PG with a power handle and EVA ball knob for angler comfort.
Reel Specifications:
Model: 17GNPXT200PG
Retrieve Per Crank: 59cm
Bearings: 3+1
Max Drag: 5kg
Mono Cap: N/A
Drag Type: Star
Weight: 205g
Powerpro Cap: 20 lbs / 220 yrds
Gear Ratio: 5.5:1