Ocean X Coastal Cruising Handbook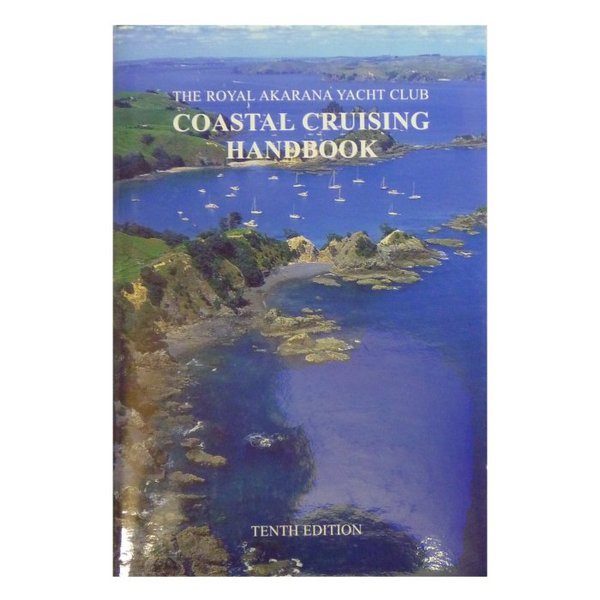 Extremely popular & details NZ sailing/cruising guide.
The COASTAL CRUISING HANDBOOK is a direct descendant of the Clyde Cruising Club's Sailing Directions for the West Coast of Scotland, long acknowledged in the U.K. as essential equipment for the navigator cruising on that rockbound coast. The idea of a similar book for our own cruising grounds was proposed to the General Committee of Royal Akarana Yacht Club in January 1971 by two members of that committee, Mary Hamilton and D'Arcy Whiting. The appearance of the first edition within 18 months was a tribute to the enthusiasm shown by all the Club's members for this project.
The first edition sold out within 9 months and a reprint was exhausted within the next year. A supplement was published in 1974 and the second edition, incorporating the corrections from this and extending the area of the coast covered, appeared in 1977, to be reprinted in 1978. The continuing demand indicates that this book fills a very real need for the navigator in New Zealand waters.
Contents:
Sketch Plans of Anchorages
Hydrographic Chart List
Introduction
Abbreviations and Chart Marks used
Cruising Directions and Anchorages:
Auckland Harbour, including Tamaki River
Musick Point to Cape Colville
North Head to Cape Rodney
Cape Rodney to Cape Brett
Bay of Islands
The Far North
Cape Colville to Town Point, Tauranga
Town Point to Cape Kidnappers
Offshore Islands
Formalities required on entering Auckland from overseas
Tidal Constants
Weather Broadcasts
Launching Ramps
SAMPLE
COROMANDEL HARBOUR (Excerpt from Section II):
This extensive bay is almost 3 miles square and has the historic goldmining township of Coromandel in its NE corner. The bay dries badly over its E and N portions but several good anchorages lie in its W part. The entrance between Esk Pt and Tawhiti Pt (known locally as "Cook and the Mar") is 1 mile wide, Whanganui Island sheltering the bay from the W. Heading for Coromandel or Te Kouma from the Waiheke Channel, Castle Hill, a 518 metre hill with a square rocky summit, is prominent on the skyline and forms a good landmark to steer for. It lies 6 miles E of Esk Pt. W of the harbour entrance Cow Islet is lit, Fl.8s.13m.12M and has an extensive reef on its E side. Calf Islet, ¼ mile S of the Cow, is unlit. There is 9 metres on the bank between these two islets. There are extensive mussel farms along the S shore from Esk Pt to Pa Pt, and also along the shore of Whanganui Island E of Tawhiti Pt. Inside the harbour the best anchorages are under Whanganui Island.
For more information, visit the RAYC website via this link