Inter Interprotect Epoxy Primer - 2 Pack - 4 Litre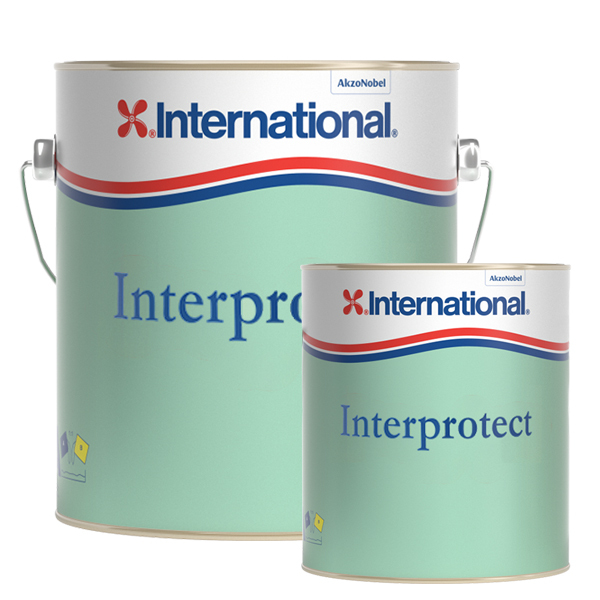 Interprotect is a high performance two pack primer/undercoat. It's perfectly formulated for polyester, vinylester, epoxy, steel, aluminium, ferro cement and timber hulls, above and below the waterline.
**SHIPPING PRICE IS FOR NORTH ISLAND SHIPPING ONLY, INCLUDING AUCKLAND** Auckland we recommend collection if possible.
SOUTH ISLAND SHIPPING: Please contact the Smart Crew for a shipping quote to your address.
SORRY, THIS ITEM CANNOT BE ORDERED ONLINE TO THE SOUTH ISLAND. The shipping price is for North Island delivery only.
Features:
An epoxy polyamide primer that can be recoated with itself for up to 6 months
Easy to sand and quick to dry
Good abrasion resistance

Specifications:
Products Theoretical Coverage: ~ 8.10 m²/lt using applications tools such as brush or roller
Actual Coverage For This Sized Product: 24.30 mt²
Area: Above the Waterline
Finish/sheen: Low Sheen
Colour: White
Size: 4 Litre
Substrates: Aluminium, Zinc-Galvanised Steel, Epoxy Composite, Carbon Fibre, GRP / FRP, Lead, Steel, Wood
Application Tools: Brush, Roller

Preperation and Application Conditions:
Ensure you are in a safe working enviroment with proper ventillation and safety/protective gear on your persons
Apply only on a dry and clean surface with a temperature above the dew point to avoid condensation
The film formation may be adversely affected by light rain, high humidity and/or condensation during application
In confined spaces provide adequate ventilation during application and drying
In Good Condition Remove all loose material, fouling deposits and any leached layer. Rinse with fresh water and
allow to dry.
In Poor Condition Remove back to sound primers using either suitable chemical strippers or mechanical methods.
Caution: NEVER dry sand antifoulings.
Any following application methods will depend on what substrate InterProtect is applied to - Refer to the Product Data Sheet linked below for exact application methods

Touch Dry - Time/Temp:
30 mins - 35°C (95°F)
1 hrs - 23°C (73°F)
2 hrs - 15°C (59°F)
4 hrs - 5°C (41°F)

The product data provided above is intended as a general overview to aid product selection and as such represents typical values.
For more specific application guidance and/or safety related information and procedures, please refer to the product datasheets provided:
Product data sheet:
https://s3-eu-west-1.amazonaws.com/akzonobel-live/documents/TDS/Interprotect_APengA4Y20160920.pdf?mtime=20170914095537
Safety data sheet:
Part A:
https://s3-eu-west-1.amazonaws.com/akzonobel-live/documents/SDS/YPA401_A4_AUS_eng.pdf?mtime=20170914095533
Part B:
https://s3-eu-west-1.amazonaws.com/akzonobel-live/documents/SDS/YPA402A1A0_AUS_eng.pdf?mtime=20171004125943