Hutchwilco Inflatable Lifejacket Child Automatic 100N W/Harness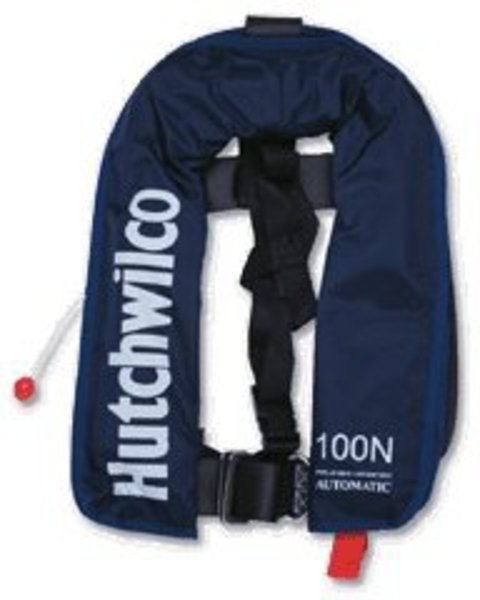 Hutchwilco Challenger model, suits weights 22-40kg, child medium.
Features the D-Rings for lifeline attachment.
Twice the buoyancy of a conventional lifejacket
Rapidly turns unconscious wearer onto back position
Automatic mechanism inflates when submerged in water
Also has a manual pull tab for inflation, plus a mouth piece for inflation/deflation
Comfortable long wear option
100 newton
Suitable for cat 1.
MSA APPROVED
EN396 APPROVED
CE APPROVED
Automatic: Same as manual as well as automatic. This model has the Co2 canister and a pull tag, And the auto inflate device, plus the ability to inflate orally. They have a salt crystal mechanism to inflate jacket upon immersion in water.
Maintenance & CO2 Bottles:
You can change the bottles yourself if required. The lifejackets come with one bottle set up ready to go but we recommend purchasing a back up in case the bottle is deloyed. (One inflation per bottle). Hutchwilco replacement bottles come with a new seal for the bottle and resistance clip to help prevent it being accidentally set of by being tugged etc. The automatic version also has the replacement auto mechanism with clear instructions.
It is easy to get inside and inflate them via the mouth piece and check for holes/damage. You can also check the bottle for corrosion and dampness on the auto's. They are recommended to be serviced every 18 months by the manufacturers and the Smart Crew would be happy to provide a quote on request.
Manufacturer's Guidelines for Care:
To clean, sponge with warm soapy water and dry thoroughly.
Don't dry clean or use cleaning solvents.
Dry away from direct sunlight or other direct heat sources.
When not in use, store in a cool, well ventilated, dry location away from direct sunlight and harmful chemicals (such as battery acid).