Shimano Plays 4000/ Status 5'10 Pe5 Combo With Braid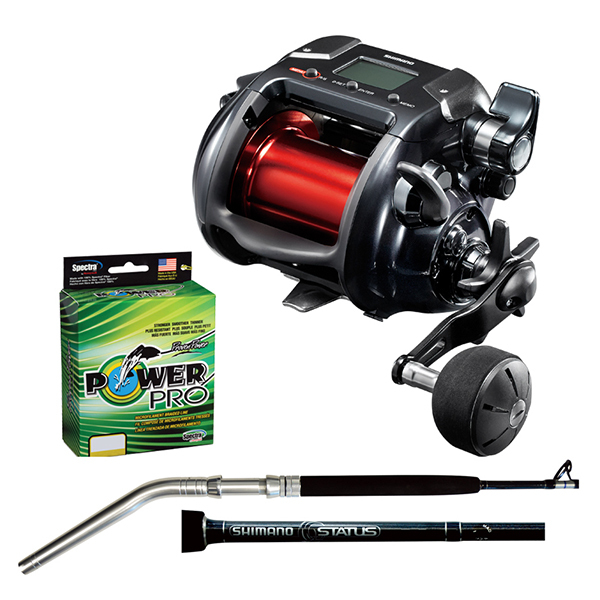 The Rod:
Designed for electric reel deep sea fishing, the Shimano Status Bent Butt Game Rod is constructed using high power carbon and e-glass blank technology to withstand and absorb the pressures of deepwater fishing. Its aluminium bent butt allows for optimum angles when deploying baits while waiting for bites and fighting tough deepwater species like bass, hapuka and bluenose. The Shimano Status Rod is aesthetically stunning - with a black blank highlighted with subtle flecks of silver, silver/blue bindings and a carbon weave. It makes not only a great performer but an attractive addition to your deepwater arsenal.
Rod Specifications:
Pieces: 2
Line Weight: PE3-5
Blank Type: High Power Carbon
Grip Assembly: Detachable bent butt
Length: 5ft 10in
Guide Type: Pac Bay Zirconium
Action: Fast
Gimbal Type: Alloy
Reel Seat: Alloy
The Reel:
Once the exclusive preserve of commercial fishermen, recreational anglers are now investigating the deep reefs that lie either side of the Continental Shelf drop off, which are home to deepwater ooglies like blueye trevalla, gemfish, hapuka, bass groper and cod. Now, winding a massive sinker and even just a single big fish up out of 70 to 150 fathoms of water requires a lot of effort, but the Shimano Dendou Maru Plays electric overhead takes the hard work out of it.
Powered by a 12 volt battery, the Dendou Maru's stainless steel gears are up to the strain of dealing with heavy sinkers and big fish in extreme depths, while a programmable line counter helps to let you know how deep you are fishing, and a levelwind lays the line evenly on the spool. For the purists, it's possible to disengage the 12 volt motor and make use of the Power Handle to retrieve line if you wish, but having that electric power there sure makes life easier.
Reel Features:
LCD Display
Stainless Steel Gearing
Line Counter
Star Drag
Clicker
Level Wind
Reel Specifications:
Make: Shimano
Model: Dendou Maru Plays 4000
Retrieve per crank: 65cm
Bearings: 2
Gear Ratio 3.2 : 1
Weight: 43.7oz/ 1,230g
Line Capacity: PE5(50lb)/600m@PE6i60lb)/500m PE8i80lb)/300m PE10i100lb)/270m BRAID
Electrically Operated Retrieve Speed Per Minute: Maximum 160 m
The enormous traction power of 44 kg/cm
Power cord included