Projecta Ip2000 Intelli-Wave Pure Sine Wave Inverter-12V/2000 Watts W/Remote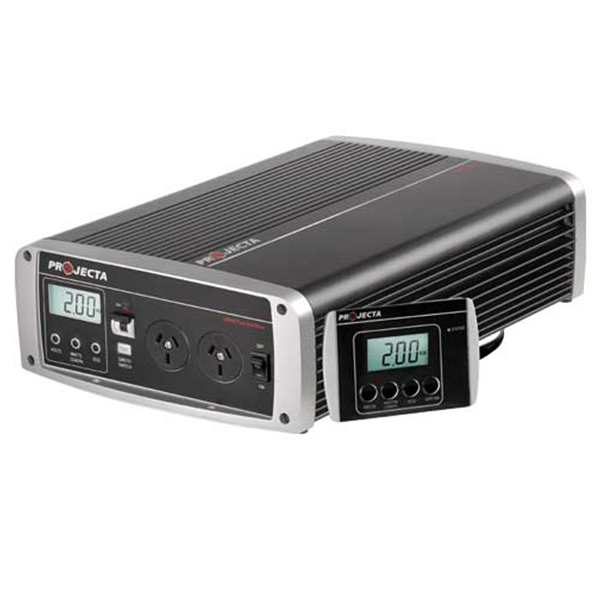 Effortlessly run your favourite appliances, unrivaled peak performance.

Class-leading pure sine wave technology, Intelli-Wave delivers ultra clean power and unrivalled peak performance to effortlessly run all your favourite appliances. They are electronic devices that convert 12V battery power to mains power.
IP2000 2000 Watt 12V Pure Sine Wave Inverter: Switch on to the World's most intelligent inverters:

2000W continuous and 4000W surge
85-90% efficiency
LCD wired remote and display
Low/high battery voltage alarm and shut down
1A no load current draw or 0.10mA in Eco mode
Built in automatic AC Transfer Switch allows an appliance to be powered from either mains power or the inverter (battery power). The inclusion of the AC transfer makes it ideal for permanent installations ensuring a quick transfer of AC power when switching from battery power to mains power and vice versa. The automatic change-over function means there is no need to manually swap over AC plugs or be switching dials between the two power sources. RCD Protected.

2 year warranty
FEATURES
Why Intelli-Wave? Projecta Intelli-Wave inverters deliver class-leading performance, power efficiency and reliability making them the choice of professionals. Engineered to produce ultra clean power, Intelli-Wave inverters feature exceptional peak power performance (200% capacity for 3 secs, 140% capacity for 3 mins) allowing them to effortlessly run demanding appliances such as fridges and power tools. All Projecta inverters are fully isolated and designed in accordance with Australian standards for safety and peace of mind.

Pure Sine Wave Output: Watch television without static, listen to an AM radio, play your favourite game on an XBoxTM, PlaystationTM or WiiTM, run a fluro, or power any other sensitive electrical appliance.

Remote Control Display: The remote control display allows you to monitor the inverter's performance and power supply levels while mounting the inverter out of sight or closer to the batteries. The remote's off/on button allows you to switch the inverter to standby mode when it is not being used, reducing the idle current draw to just 2mA.

LCD Display: Iluminated multi-function LCD screen that provides detailed information including battery voltage (volts), power usage (watts) and load capacity (percentage). This information allows you to monitor the inverter's performance and power supply levels when running important equipment away from mains power.

Fully Isolated Design: Safety is paramount around 240V and in particular with inverters which is why Projecta fully electrically isolates the DC (and therefore battery posts, vehicle chassis, etc) from the 240V AC circuit. RCD protected

Designed to AS4763: Designed in accordance with Australian Standard AS4763 (Int): 2006 - Safety of Portable Inverters.

Dust Proof: Constructed from extruded aluminium, Intelli-Wave inverters are dust proof and shock resistant. The circuit boards have been conformal coated to protect against moisture and other elements so they are suitable for use in a range of locations.

2 Year Warranty: Australian designed and engineered, quality is guaranteed and all battery chargers include a 2 year comprehensive warranty.
SPECIFICATIONS
INPUT 12VDC Battery/Vehicle (9.75-15.5VDC)
INPUT CURRENT 200A max RCD protected
NO LOAD CURRENT DRAW 0.05a Eco
REMOTE STANDBY CURRENT DRAW 2mA
OUTPUT 240VAC 50Hz
CONTINUOUS POWER 2000W
PEAK POWER (surge) 4000W
INVERTER CLASSIFICATION Equipotentially Bonded Inverter (EPB)
OUTPUT WAVEFORM Pure Sine Wave
EFFICIENCY 85-90%
LOW BATTERY ALARM SHUTDOWN Alarm 10.25V, Shutdown 9.75 (+/-0.2V)
COOLING FAN Automatic Temperature Controlled
THERMAL SHUTDOWN 65 degrees C (+/-5 degrees C)
REPLACEMENT FUSE Standard Auto Blade
FUSE QUANTITY & SIZE 220A (4x40A & 2x30A)
FUSE LOCATION Internal
SIZE 442 (l) x 270 (w) x 105 (h) mm
WEIGHT 3.2kg