Shimano Beastmaster 9000 / Status 5'6 Bent Butt Pe5-8 Combo With 1000M 80Lb Braid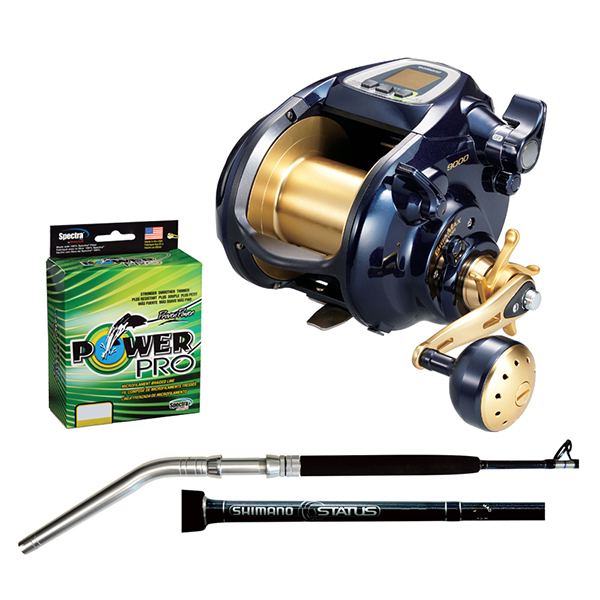 A brand new combo from Shimano with their latest in Rod and Reel technology Spooled with PowerPro Braid!
The Rod:
Designed for electric reel deep sea fishing, the Shimano Status Bent Butt Game Rod is constructed using high power carbon and e-glass blank technology to withstand and absorb the pressures of deepwater fishing. Its aluminium bent butt allows for optimum angles when deploying baits while waiting for bites and fighting tough deepwater species like bass, hapuka and bluenose. The Shimano Status Rod is aesthetically stunning - with a black blank highlighted with subtle flecks of silver, silver/blue bindings and a carbon weave. It makes not only a great performer but an attractive addition to your deepwater arsenal.
Rod Features:
E-glass blank technology absorbs pressures of deep-water fishing
Allows for optimum angles when deploying baits
Aesthetically stunning
Rod Specifications:
Pieces: 2
Line Weight: PE5-8 kg
Blank Type: High Power Carbon
Grip Assembly: Detachable bent butt
Length: 1.5m (5ft 2in)
Guide Type: Pac Bay Zirconium
Action: Fast
Gimbal Type: Alloy
Reel Seat: Alloy
The Reel:
The Shimano Dendou-Maru Forcemaster 9000 brings a whole new dimension to the range of power assisted reels in to the New Zealand fishing tackle market. Kiwi anglers now have the ability to drop baits in to the deep offshore canyons and seamounts to prospect new areas and target monster deep water ooglies like bass, gemfish, hapuku, and bluenose, previously unavailable to more traditional styles of reels.
Extra-deep-water bottom fishing is fast becoming extremely popular. Once the exclusive preserve of commercial fisherman, recreational anglers are now investigating the deep reefs that lie either side of the continental shelf drop off, often in depths up to 500m and more. This is a long way down and a long-way up — especially with a hefty fish or two on the end.
When fishing in the deep bethos it is important to get your baits in to the strike zone as quickly as possible and retrieve line back on to the reel at pace and efficiently - this means more time actually fishing and when faced with short bite times, this effective system maximises one's chance of landing the big one
Reel Features:
Hagane Body
S-ARB bearings
e-EXCITING Drag Sound
Vented sideplate
Heat Free II system
Fine-Dot (Hi-Res) LCD display
Reel Specifications:
Gear ratio:3.1:1
Max drag: 25kg
Weight: 1530g (54oz)
Bearings: 3 S-ARB
Max retrieve: 140m per min
Line capacity: Power Pro EU DIA (mm-m): 0.32-1870, 0.36-1650, 0.41-1150, 0.43-940
Power Pro US (lb-yds): 40-2050, 50-1800, 65-1260, 80-1030
Electricity: 12-24V DC