Bep Digital Dc System Monitor - Amps/Volts/Tanks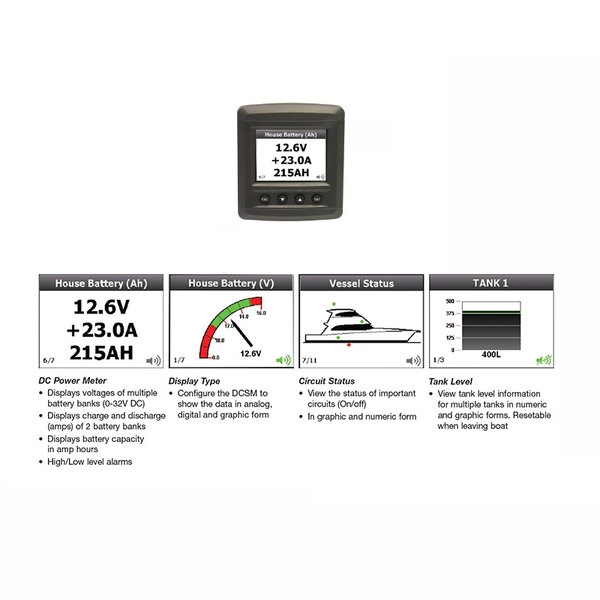 BEP DC Systems Monitor (DCSM).
This state of the art full colour DC monitor provides a range of system monitoring functions suitable for today's modern vessels. With the complexities of modern DC electrical installations and the need for a wider array of monitoring combinations the new DCSM provides a functional multi-purpose display system suitable for a variety of applications. With the development of new, more accurate tank monitoring technology, BEP is now better able to satisfy multiple information requirements for such things as fuel, freshwater, grey water and black water. The DCSM display features a clear, extra large type face allowing for more detailed on-screen information and increased clarity. The simple menu, positive touch buttons and back lit screen make this multi-function monitoring system easy and intuitive to use.
Features:
Eight generic, user configurable inputs
Programmable high/low audio/visual alarms for volts, amps and tank levels
Backlit keypad and dimmable screen
Can be panel or surface mounted
Kit Includes:
BLA Code 113403 - 5m x two core pre-terminated screened cable
BLA Code 113457 - 450A / 50 mV shunt
Monitor:
2.8" Colour QVGA LCD display
Input voltage 8-32VDC
Charge/discharge amps for up to two banks
Capacity remaining in A/h and %
Battery condition
Tank fluid level
Circuit status