Altex Coastal Copper Ablative Antifouling Blue - 4L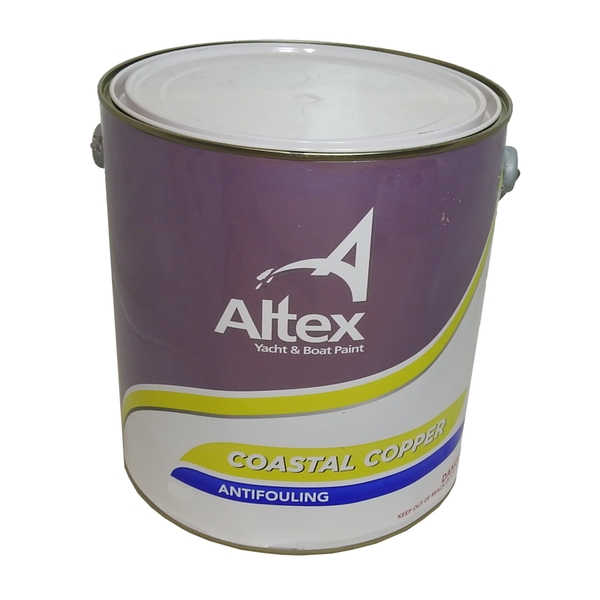 Coastal Copper Antifouling is a cost effective ablative antifouling coating, designed for pleasure marine applications where economy is required.
An ablative antifouling designed for both yachts and launches where an economically priced antifouling is required.
Provides 18 months protection from two coats (75 microns each)
Coastal Copper has been used in NZ, Pacific and Australian waters for over 20 years and has consistently provided affordable and predictable protection from marine growth.
**SHIPPING PRICE IS FOR NORTH ISLAND SHIPPING ONLY, INCLUDING AUCKLAND** Auckland we recommend collection if possible.

SOUTH ISLAND SHIPPING: Please contact the Smart Crew for a shipping quote to your address.
SORRY, THIS ITEM CANNOT BE ORDERED ONLINE TO THE SOUTH ISLAND. The shipping price is for North Island delivery only.
Advantages:
Ablative mechanism inhibits the attatchment of fouling organisms
Cost effective performance
Controls common types of fouling for periods up to 12 months per coat, depending on sailing pattern applied systeem
Compatible with most suitably prepared copper based anti-foulings
Recommended Uses:
It is recommended for both launches and yachts and will typically provide up to 18 months protection from a two-coat system.
Coastal Copper antifouling is an ablative coating - being harder than Altex NO. 5, and therefore or experience higher wear than normal. Vessels that are moored in highly tidal areas ( that can ablate softer coatings too readily) are well suited to Coastal Copper.
Limmitaion of Use:
Not suitable for Aluminium vessels, stern drives or other aluminium items.
Specifications:
Coating Type: Ablative Matrix
Colour: Blue
Packaging: 4 Litre Only/Single Component
Flash Point: 37 Degrees Celsius Setaflash
Thinner: Altex Thinning Solvent #12
Clean Up: Altex Thinning Solvent #12
Shelf Life: 12 months when stored under cool, dry conditions
How Much Paint Do I Need?
Calculate / Approximate the surface area in square metres of of the hull below the waterline. Divide that number by 6. That will give you the number of litres, for a single coat, based on 80-90 microns thick. Double that number to get the total required for two coats. Apply ALL of that colume (even if it takes you several coats). You will then have maximum protection.
Density: 1.79 kg per litre
VOC: 414G pre Litre
Volume Solids: 52%
Theoretical Coverage Rate:
5.2sq. metres per litre at 100 microns dry
6.9sq. metres per litre at 75 microns dry
Recommended Film Thickness Per Coat:
192 microns wet to obtain 100 microns dry
145 microns wet to obtain 75 microns dry
(Typically two spray applied coats (at 75 microns each) equates to three roller applied coats to achieve the same film thickness)
Application: Spray, Brush, or Roller
Reccommend Dry Times Times(100µm DFT / 25oC / 50% RH):
Dry to Recoat: Minimum 6 hours. Maximum - not critical
To Launch: Minimum 8 hours
For more information, Product Data Sheets and MSDS. Please see https://altexboatpaint.com