Shimano Dendou Maru Forcemaster 9000 Electric Reel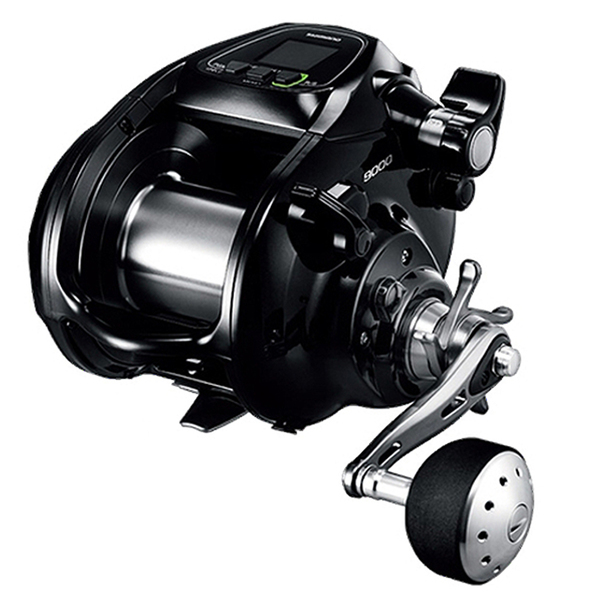 The Shimano Dendou-Marou Forcemaster 9000 power assisted reel.
This highly efficient reel build is born from the Japanese Domestic Model catalogue and features only the best components available. Extra cooling features such a water tight ventilation system allows a higher torque range with more efficiency across the gears - deep water prospecting Just got a whole bunch 'cooler!' Haivng 140ms per minute retrieve rate allows more time fishing less time winding and with a max drag of 25kgs even the biggest bottom dwellers will roll over on the new Shimano Dendou-Marou Forcemaster 9000.
Reel Features:
Watertight Ventilation
Hagane Body
S-ARB Bearings
E-EXCITING Drag Sound
Vented Sideplate
Heat Free II System
Fine-Dot (HI-Res) LCD Display
Reel Specifications:
Model: TRDDM9F
Type: Overhead
Max Drag: 25kg
Voltage: 12V
Weight: 1500g
Max Retrieve: 140m per minute
PowerPro Cap: 80lbs =1030yds
A-RB bearings
These bearings have been through the same process as our A-RB bearings, but feature shields on both sides of the bearings that reduce the possibility of salt or sand inhibiting the bearings rotation.
TEN YEAR WARRANTY
Shimano New Zealand provides a TEN YEAR WARRANTY on all Shimano fishing reels, against defects in materials and/or faulty workmanship.
HAGANE Body
The HAGANE Body means this reel has a high rigidity and zero twist.The body stiffness and impact resistance virtually eliminates body flexing.The result transforms the anglers actions directly into cranking power. It's efficiency through strength.
LCD display
The large LCD display with on-screen information such as program, lineout, power and other relevant information