Black Bart 1656 Angled Game Fishing Lure-14" Blue Yellow Stripe/Rainbow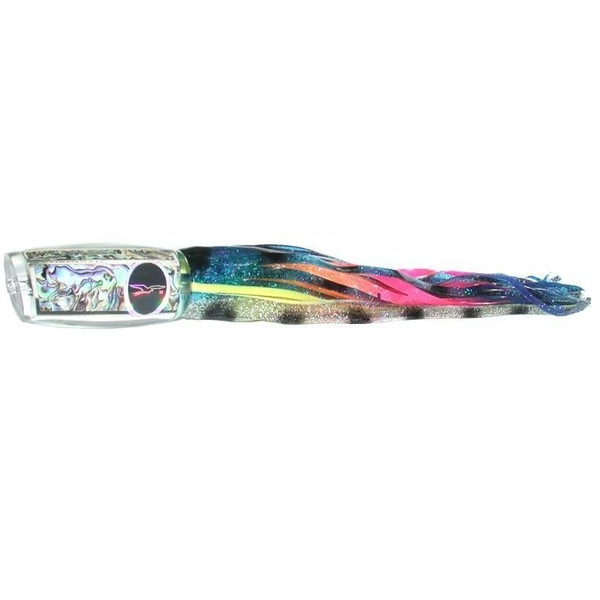 Deep runner, smooth torpedo action.
1656 Angle Nose:
"A sure thing offshore- a real no-brainer" say's Capt. Bart Miller in reference to this lure, one of his all time favorites. This deep runner with a smooth torpedo action tracks best from the rigger position, trolled at moderate speeds in most weather. Often copied never duplicated, top Captains around the world have called this single lure their personal favorite. Who am I to argue, it caught my largest blue marlin "1656 lbs." The 1656 Angle nose performs best with 10/0 hook set.
Details:
Specifications: Hard Head
Skirted Weight: 8.5 oz / 241 grams
Head Length: 3.2" / 81mm
Head Diameter: 1.5" / 38mm
Skirted Length: 14.5" / 368mm
Leader: 400 - 600 lbs.
Replacement Skirt Size: S5
Unrigged.
Black Bart Lures-The #1 Choice of Offshore Big Game Anglers!
Captain Bart Miller:
'My company was first established in 1966. The advanced technologies available today have once again made Black Bart Lures the Gold Standard in the industry as they have been for the last four decades. New unbreakable plastics, new Flash & GlowTM technology, new Pro BalanceTM weighted inserts that make my lures track and attract like no other. We have dissected the negatives from all our products making them upgraded and updated. Anglers and fishermen alike would be able to FISH THE FUTURE NOW. World class lures and skirts! Today I am able to serve you with the finest artificial lures ever made. Most importantly every Black Bart Lure you own has stood the test of time, 42 years of making first string spreads for the most discerning big game fishermen worldwide.'
'The evolution of the Hawaiian artificial lure to this very day still intrigues me. I'll wager you didn't know that you just couldn't go down to your local tackle store like you can today and pick out a few favorites.
It was a whole lot more difficult than that, either you had to know how to craft your own lures or know some one who could. Trying to gain secrets from the lure masters of that period usually fell upon deaf ears. Lure buying was a straight up simple hand to hand kind of deal and well worth the sometimes lengthy effort needed to acquire them. That was a great era, one that I will never forget.
Today I am able to serve you with the finest artificial lures ever made. I also can supply you with another exactly like your favorite, even if you lost it to a monster! Most importantly every Black Bart Lure you own has stood the test of time, 42 years of making first string spreads for the most discerning big game fishermen worldwide. I want your fishing adventure to be all that you dream it to be. My promise to you is that each of my lures had to compete with the rest, to finally become the best.'
Aloha & Great Fishing! Captain Bart Miller'
Black Bart International