Raymarine Dragonfly Pro 7 Colour Fishfinder Gps Combo 7" With Wifi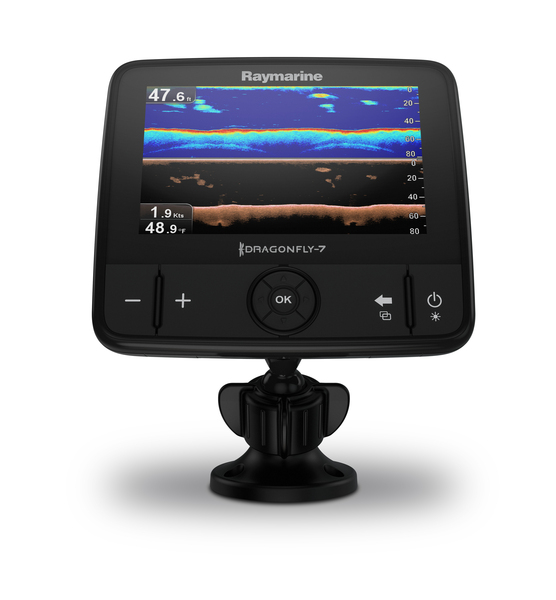 Change your underwater view and catch more fish with the Dragonfly 7 wide-spectrum CHIRP DownVision™ technology.
A leap into the future of sonar, Dragonfly sonar displays employ true wide-spectrum CHIRP technology. With wide-spectrum CHIRP more sonar signals are transmitted into the water, allowing Dragonfly to interpret more detail, target more fish, and image structure with unmatched clarity. Easily identify fish and underwater objects with photo-like sonar images. Dragonfly's all-weather, high-definition color LCD display looks sharp from every angle. Step up to a smarter species of sonar with Dragonfly.
Features:
CHRIP DownVision™ - Simply The Best Imaging Sonar
Connect & Share Wirelessly
Built-in Wi-Fi
Wi-Fish App Features
Enhanced Wi-Fish™ mobile app
Powerful Multi-screen CHIRP Sonar technology
Dragonfly PRO Now Compatible with Navionics Boating App and SonarChart™ Live
Navionics Boating with SonarChart™
Superior Sonar
DownVision™ sonar
Dual-Channel CHIRP
CHIRP DownVision™ plus a CHIRP-powered fish targeting channel for conventional sonar imagery.
Dual-channel sonar is available on all Dragonfly models except the Dragonfly 4DV
Mount Anywhere
Specifications:
Nominal Supply Voltage: 12 V DC
Operating Voltage Range: 10.8 V DC to 15.6 V DC
At Full Brightness: 9.0 W RMS
Connections: Power / Transducer combined input
Waterproofing Standard: IPX6 and IPX7
Display Size: 7.0 in
Display Resolution: 800 x 480 WVGA
Aspect Ratio: 15:9
GPS Channels: 72 GPS / GLONASS Channels
Chart Compatibility: LightHouse | Navionics | C-MAP by Jeppesen
Waypoints: 3,000 waypoints
Tracks: 15 tracks (each track can contain up to 10,000 points)
Chart Media: MicroSD
Sonar Type: CHIRP Sonar
Warranty: 1 Year Warranty