Viper Pro Rapid 1000 Drum Anchor Winch - Boats To 5-8M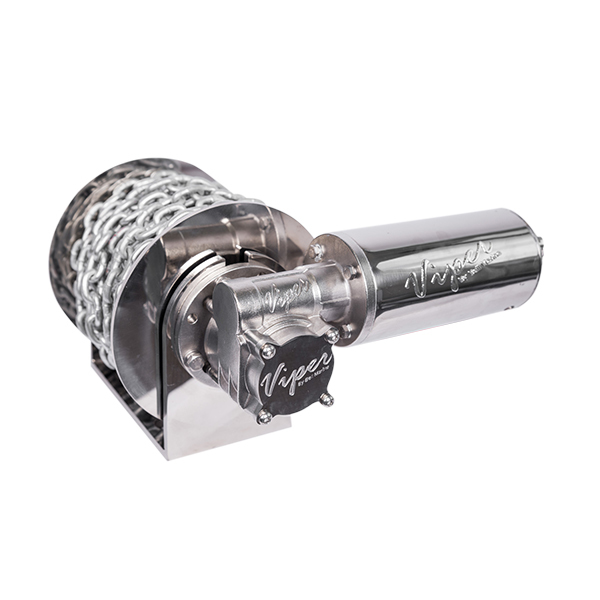 Now with a world first - 316 stainless steel submersible 1000w motor!
Package Includes 100 mtrs of 6mm double braid and 8 metres of 6mm shortlink.
Specifications:
Max Retrieval Rate: 40mtrs Per Minute
Max Fall Rate: 45mtrs Per Mintue!
Vessel Length: 5 - 8m / 16 - 26ft
Power Supply (Dc) 12v
Motor: Commercial 1000watt
Max Load: 180kgs
Working Load: 75kgs
Mounting: Anchor Well, Deck Mount & Cabin Mount Using Hawse Pipe 30023
Weight: 15.6 Kgs
Well Clearance Req: W 40cm L 35cm H 25cm
Fixing Base Size: 25.5cm X 12cm
Features:
5 Year "You Break It, We Replace It Warranty" Warranty
Plus Life Time Water Intrusion Warranty!
Solid Stainless Steel 1 Piece Shaft
Fully Contructed From 8mm Plate 316 Stainless Steel
Stainless Steel Support Bearings
Includes:
100amp Circuit Breaker
Marine Grade 200amp Anchor Solenoid
Up/down Led Switch With Face Plate
Plus Combo Circuit Breaker & Switch Combo Face Plate
100 metres of 6mm double briad rope spliced on to 8mtrs Of 6mm Shortlink Galv Chain
Deluxe Anchor Roller
Stainless Steel Anchor Swivel
5mm Stainless Steel Sandwich Plate
All Fixing Hardware
5 Year Warranty
Installation Instructions
The Viper Winch Is A Stainless Steel Sealed Electric Motor - Not A Stainless And Plastic Cover Over A Steel Electric Motors!
Includes 100 Mtrs Of 6mm Double Braid And 8 Metres Of 6mm Shortlink.
(Chain Sock Pictured Not Included)
At last an anchor winch that is as fast as free fall but without the stress! The viper pro series winch travels at 40mtrs per minute so you can get right on top of your gps mark before you drift away waiting for your anchor to hit bottom.
Constructed from 8mm marine grade 316 stainless steel, hand polished to a 2000 grid mirror finish and we only use our electric motors, manufactured in our factory by our staff with our stringent qc requirements!
Please note: cables are already attached to our motor and water tested, so there is no need to remove caps that are not sealed properly!
Viper is also the worlds first anchor winch company to offer 5 year warranty!