Inter Epifill 2:1 2 Pot Epoxy Filler - 335G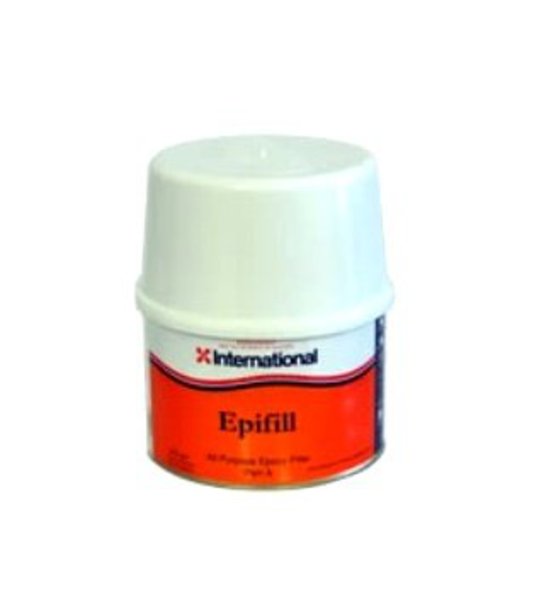 Suitable for above and below the waterline.
Epiglass Epifill is a general purpose white, two-pack epoxy filler designed for a wide range of filling applications in both marine and general areas.
Do not apply over one-pack systems.
PRODUCT DESCRIPTION:
A medium to high density general purpose two pack epoxy based filler.
* Thixotropic giving no sag
* May be drilled, tapped and used under high compressive loads
* May be used for coving and a wide range of filling jobs
* Smooth and easy to mix
* Use above and below the waterline
* Ideal for fairing keels
PRODUCT INFORMATION:
Colour YAA051-White Cured film is white.
Finish- Matt
Specific Gravity- 1.2
Volume Solids- 100%
Mix Ratio 2:1 by volume (as supplied)
DRYING-Sandable/Pot Life:
10ºC: Sandable 36hrs, Pot life 2hrs.
15ºC: Sandable 32hrs, Pot Life 1hrs.
23ºC: Sandable 16hrs, Pot Life 40mins.
35ºC: Sandable 8hrs, Pot Life 20mins.
Overcoating Substrate Temperature- Overcoated by Interprotect: (Minimum)
10ºC: 36 hours
15ºC: 32 hours
23ºC: 16 hours
35ºC: 8 hours
Max for all:-
**Note: All fillers should be sanded before overcoating to ensure good adhesion.
APPLICATION AND USE:
Preparation All substrates must be clean, dry and free from contaminants.
Hints:
Mixing Mix the two components thoroughly to an even colour.
Thinning Do not thin.
Cleaner YTA061 International Epoxy Thinners #7. Clean before product has started to gel. Once cured, the product is very difficult to remove.
Ventilation and Humidity Control Ensure adequate ventilation during use.
Some Important Points:
Do not use below 10°C/50°F. Product temperature should be minimum 10°C and maximum 25°C. Ambient temperature should be minimum 10°C and maximum 35°C. Substrate temperature should be minimum 10°C and maximum 30°C.
Compatibility/Substrates:
For use above and below the waterline. It should not be used over any one pack products. Not suitable for use with some pretreated timbers.
Number of Coats- As required
Coverage (Theoretical) - 0.10 (m²/lt) at a thickness of 10 mm
Recommended- DFT
Application Methods- Trowel, Knife / Spatula

Visit the International Yacht Paints website via this link for more painting & product advice.