Hempel Non Slip Paint (Enamel) - 750Ml White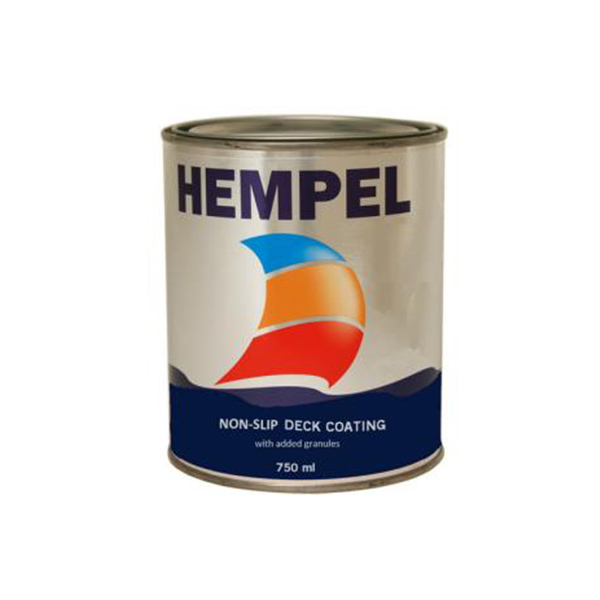 Hempel Non-Slip Deck Coating is a quick-drying acrylic paint, containing an anti-slip aggregate. Physically drying. It has a good brush-ability and is resistant to sunlight, salt water and spillage of mineral oil. Dries in 1-2 hour in warm dry conditions!
As an intermediate and finishing coat in anti-slip systems on interior and exterior surfaces surfaces above water-line. Suitable on steel, wood, and glass fibre.
Specifications:
Theoretical Coverage: 9.2 m2 /l
Colour: White
Size: 750ml
Preparation & Application Conditions:
Ensure all surfaces are clean, oil free and dry
Apply only on a dry and clean surface with a temperature above the dew point to avoid condensation
Application should only take place in dry weather with temperatures above: 5°C/41°F
Do not apply in direct sunlight
In confined spaces provide adequate ventilation during application and drying
Follow the referred instructions in the Product Data Sheet (linked below) for exact application methods
Application:
Temp: 10° C - Touch Dry: 2-4 hours
Temp: 20° C - Touch Dry: 1-2 hours
For further technical details and safety information please refer to the data sheets below:
Product Data Sheet:
http://www.hempelyacht.co.nz/images/uploads/specsheets/PDS_HEMPELS_NON-SLIP_DECK_COATING_56251_en-GB.pdf
Safety Data Sheet:
http://www.hempelyacht.co.nz/images/uploads/specsheets/56251-19500_Non-Slip_Deck_Coating_Grey.pdf